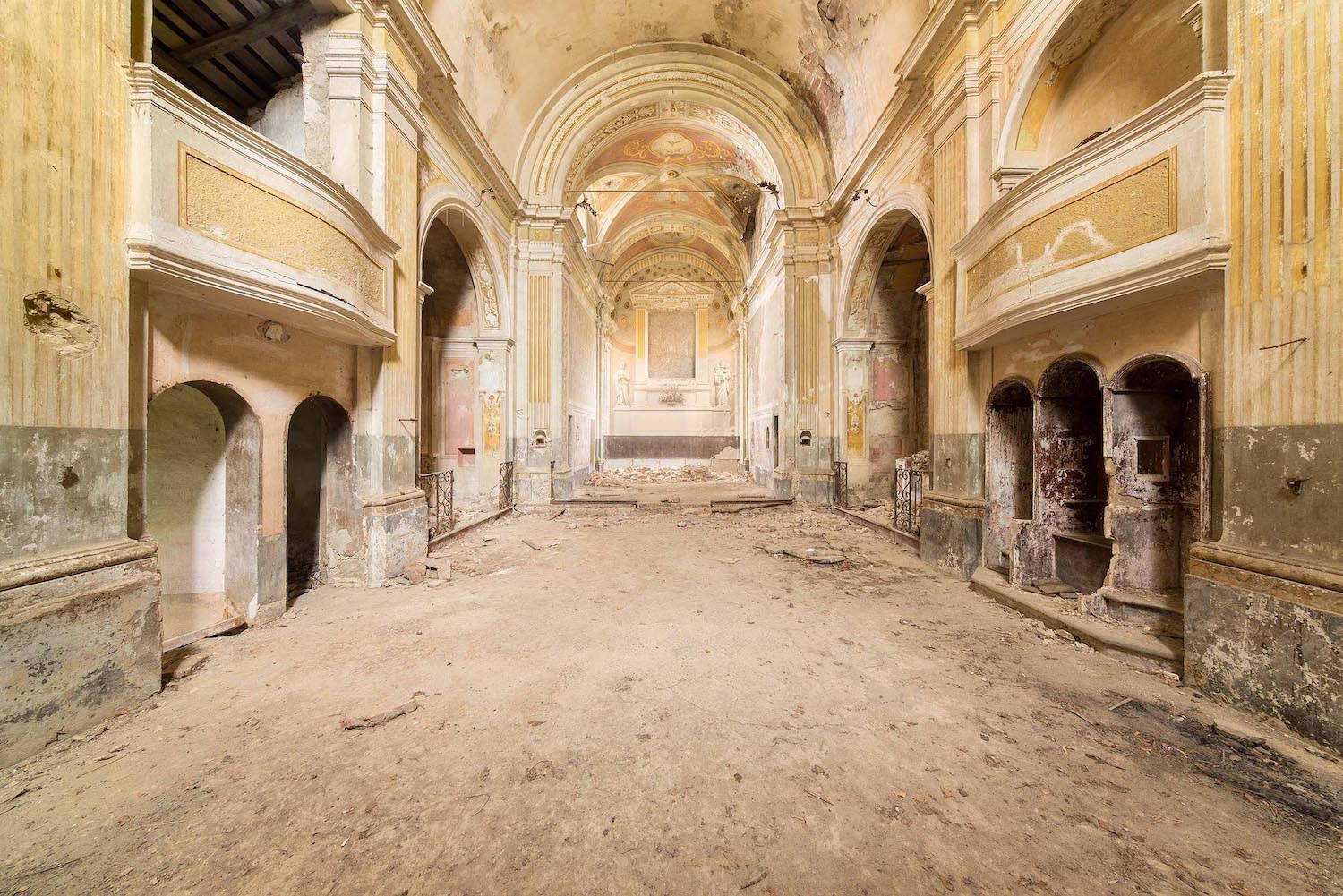 about the artwork :
Chiesa Calabrone , 2018
about the artist :
Trained as a graphic designer, French photographer Dimitri Bourriau, alias Jahz Design, has always been interested in history and architectural remains. He explores the ruins of the past and observes the decline of time on architecture by drawing our attention to the ephemeral memory of our constantly changing civilization.

It is in 2013 that he developed his interest in urban exploration and photographing heritage in disuse. He wants to show that these places are not forgotten, that there is always a transition from nature to man and from man to nature. It is a photographic testimony, a real archiving job. By looking at his photographs, we play the role of an active witness maintaining the photographed place alive.

The artist went on his first exploration in a former military ship cemetery and today, he travels around the world, looking for declining places to photograph. In 2017, he became the ambassador of Manfrotto, a manufacturer for cameras and lighting. In 2018, it is Irix, the ultra-wide-angle lens brand from Switzerland, who asked Dimitri to become their ambassador. His latest discoveries have taken him in the footsteps of the Soviet Buran spacecraft program, in Baikonur (Kazakhstan), allowing him to be a laureate of the Drone Photo Awards at the Siena International Photo Awards Contest (SIPA Contest) in 2020.
Chiesa Calabrone , 2018
Print mounted on aluminium with plexiglas, framed
Image : 31 x 47 in (80 x 120 cm)
INV Nbr. burr_22
Edition of 15 copies
Internet
Price : 4,050 US$
Shipping
Shipping under 7 to 10 days.
When you receive your artwork, you will be able to return it and get your money back within 14 days after without having to justify yourself, of course if the artwork is not damaged.
Questions ?
Do not hesitate to contact us if you have any question about this artwork, the artist or if you want some suggestions to start or complete your personal collection. Please call us at +33 1 53 30 00 10 or by email yannb@enviedart.com