The Gallery's latest news
Discover all the lastest news from the gallery, our artists, their works and upcoming exhibitions.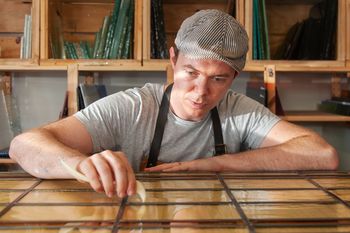 Artist Focus: Arjan Boeve
from January 10, 2022
Surprising is the word that comes to mind when looking at the stained glass works of Dutch artist Arjan Boeve. He uses an age-old traditional technique, largely forgotten by his contemporaries, to tell stories about characters from popular culture, from Tintin and Snowy to Donald Duck. Mixing references, Pinocchio can be seen wearing Nike or you can spot smiley faces on eggs. Born in 1986, this young artist based in Zwolle, in the Netherlands, is no rookie. Commissioned by Disney for Mickey Mouse's 90th birthday, he has since captured the attention of many collectors of stained glass and pop art around the world, especially for private commissions. We are exhibiting him for the first time in Paris, and would like to take this opportunity to present his special profile.

Arjan is very inspired by our modern world, full of fictional characters and heroes. He likes to play with their meaning and values; he uses them as symbols to mirror our own behavior and the changes in our daily life. "We live in a very interesting time, in which the physical and digital worlds meet, and I like to play with that. Exploiting the tradition of stained glass on the one hand and associating it with fictional characters who, in a way, don't belong to this world, but do belong to it. Almost as much as the old biblical stories, they are the heroes and villains of today, guiding our morals. This is a perfect playground to reflect on our system, our culture."

What does he wish to share through his work? "I want to entertain people. To give them an opportunity to pause and show the importance of the things that happen every day. Because we live in a hurried world and miss out on important changes in our society if we don't pay attention to the little things. These change us, they change the way we see the world. I think I was drawn to stained glass because it's a difficult art and craft to master and in some ways, it's no longer connected to our modern world. I want to remedy that, show how relevant it still is, and use the stained glass scene to tell contemporary stories."

See all the works by Arjan Boeve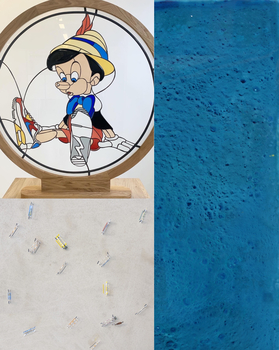 Exhibition - Surfaces
January 8 - February 1, 2022
For the first exhibition of the year, we present a new artist and two new series of works. The exhibition will feature the work of Dutch artist Arjan Boeve, who recreates pop culture characters in stained glass using the Tiffany copper technique. You will also discover aerial photographs of equestrian competitions by Antoine Gaussin and abstract monochromes with irregular surfaces by Edouard Buzon.

Opening on Saturday 8 January 2022
From 3pm to 6pm, in the presence of the artists
Envie d'Art Gallery - 24, rue Treilhard Paris 8
RSVP required: cathy.bombard@enviedart.com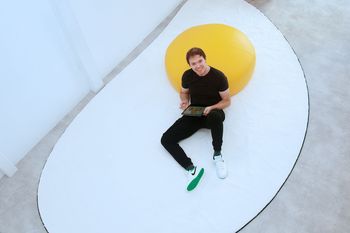 New artist: Arjan Boeve
from January 3, 2022
We are pleased to announce the arrival in 2022 of an artist with a unique and original technique, Arjan Boeve. Influenced by his experience as an animator, the Dutch artist works exclusively with stained glass. Fascinated by the way the properties of glass influence the lines, he uses the technique called Tiffany, which involves adjusting shaped glass with copper foil edges. In 2018, Arjan was commissioned by Disney to participate in the celebrations of Mickey's 90th birthday. This marked the start of a series of stained glass art pieces that celebrate the iconic pop culture of our time.

Discover the works of Arjan Boeve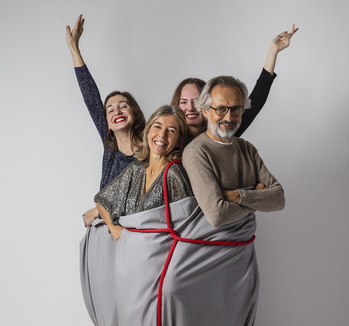 In 2022, free your arty side!
from January 1, 2022
This New Year, we wish you all the best: to surround yourself with beauty every day, to bring out the best in yourself, to make all your dreams come true... and so much more. On our side, we will seek out and guide more and more artists to showcase their talent in all four corners of the world, and we have many exciting projects to surprise you! Finally, we wish you and all those around you a lot of happiness.

Happy arty 2022,
The Envie d'Art team