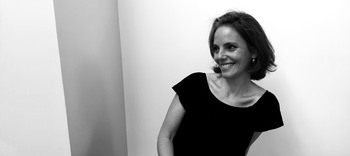 Artist Focus: Muriel Kerba
from February 10, 2021
The precision and meticulousness of Muriel Kerba's work seduced us from the very start when we met her at the gallery a few months ago. A graduate of Parisian art school Penninghen, she became a graphic designer before turning to illustration for young people. And for the past ten years, the talented designer has been engaged in personal artistic research, exploring mediums as varied as ceramics and silkscreen printing.

In her latest explorations, she discovered paper cut-outs and created a game of reflection on apertured paper, an illusion of colour in a white world that gives the impression of a relief drawing. The paper cut-outs draw the shape and create a double dimension through a play of cast shadows; ideal for translating forms of plant life on the borderline of animals, and letting their presence come alive through volume and relief. "I am mainly inspired by the botanical register, which fascinates me. This vegetal universe is an abundant source of developing cells in the form of bulbs, germs, roots or branches. Their organic structures become the main characters of abstract compositions and allow me to evoke a parallel world that escapes the naked eye: that of the infinitely small as well as the infinitely large."

The topography is created by a play of cuts and notches while the colour vibrates in small touches. Depending on the position of the spectator, the work is transformed. The light moves and reveals a work where each stroke of the blade, precise and measured, has its importance. The accumulation of successive layers of ink, paper or paint is a constant in her research. "I need to explore several directions, to turn around the pot in which all the plants in my personal canopy grow. I deliberately use the word "canopy" because light is also a key element for me and of course its corollary: colour. It is the point of contact between my work and the spectator. It catches the eye, attracts and fascinates with its vibratory waves."

See all the works of Muriel Kerba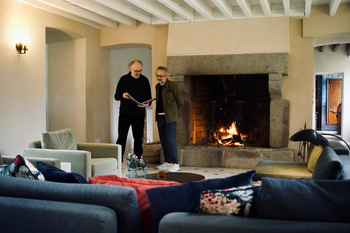 Artist at Home: Jean-Michel Berts
from February 8, 2021
A few steps from Paris, in Normandy, you can stumble upon the old mill in which Jean-Michel Berts and his wife Valérie, a jewel designer, found three years ago the space they needed to set up their respective studios, in a green setting lulled by the sound of water. The wheels of the mill are still in the living room, in front of a fireplace that crackles all winter long. Sprinkled with the artist's photographs of cities, the mill seems to be the necessary refuge from the frenzy of the capitals he photographs, mirroring his emblematic style of long early morning poses: calm and serenity in the whirlwind of city life. Today, he invites us to his Norman haven of peace to meet his dogs, visit his studio and discover how the couple skillfully rehabilitated the 18th-century house. Subscribe to our weekly newsletter to get the rest of our "Artist At Home" series.

See all the works of Jean-Michel Berts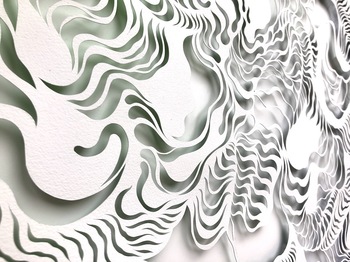 Exhibition - White Variations
February 5 - March 3, 2021
February is traditionally the winter month dedicated to snow. If this year we won't be able to enjoy winter sports as usual, we wanted to pay tribute to the beauty of this immaculate colour, so we have brought together in the gallery the works of our artists who celebrate white, on a wide variety of mediums.

See the exhibited works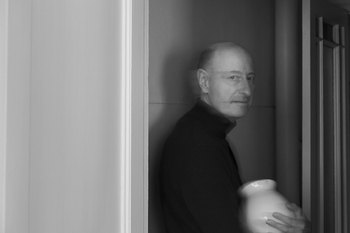 Artist Focus: Thierry Genay
from January 10, 2021
For the past ten years or so, Thierry Genay, a former graphic designer working in the world of trend books, has been devoting himself solely to still life photography. What started with a small compact camera in his garden in Toulouse took a decisive turn when he fell in love with a still life by Jan Van de Velde of the Rijksmuseum. Subjugated by the pictorial material of the large ochre and grey backgrounds of his rigorous compositions, he began to compose his own settings, whose pictorial aspect was truly impressive. The artist can spend hours moving, reshuffling and composing in order to achieve the spectacular result of each of his photographs.

Thierry Genay has two main sources of inspiration: the first, more obvious, is the golden age of still life painting in the 16th and 17th centuries, the second is contemporary painting, which is not always reflected in his work. "What I like in the first is the reference to the passing of time, which is more marked in vanities and cabinets of curiosities. I like the symbolic aspect of the objects represented as much as their photographic substance. This is one of the essential aspects of still life. I translate it in my work by choosing objects that are marked by time in their material and that evoke a simplicity that one acquires through work, that is to say also with time. The composition supports this idea by releasing a void around the elements which allows the whole to breathe."

The photographer takes the time I need for all the compositions he creates. This can vary from a few days to a few months, or even a year or more, because he can leave a photograph aside before returning to it, before perceiving that it brings something interesting to his approach. He works in the natural light of a window and then composes with a very limited selection of objects. He uses as backgrounds and bases canvas cardboard that he paints, and then works on his composition by precisely adjusting the place of each object. "I am often told that my photographs are soothing. This is flattering to me, because it is the idea of the still life, of the quietness of a material or immaterial interior, of a certain inner life. Still life is a pictorial and photographic genre that has a long history, and what is important for me is to feel that I am entering this history by bringing a personal touch."

See all of Thierry Genay's works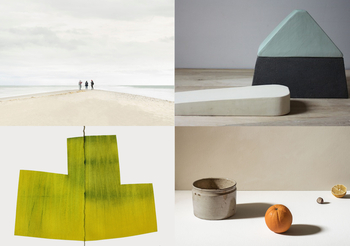 Exhibition - Minimal compositions
January 8 - February 5, 2021
After the holiday celebrations in December, our exhibition dedicated to minimalism and purity will bring us the long-awaited touch of moderation and serenity. Harmony and softness will be the key words of this first exhibition of the year and we look forward to seeing you at our gallery located at 24, rue Treilhard (Paris 8) until February 5th.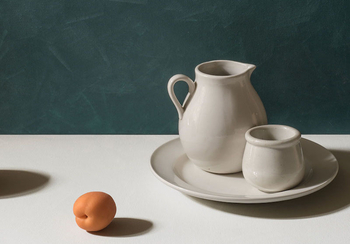 New artist: Thierry Genay
from January 5, 2021
We are pleased to announce the arrival in 2021 of an outstanding photographer, Thierry Genay, a specialist in still lifes in which the photographic image seeks the imitation of the effects of composition, drawing and color, which were those proper to a painting of Europe in the seventeenth and eighteenth centuries. These works will be presented at the gallery from January 8 onwards, for the Minimal Compositions exhibiton.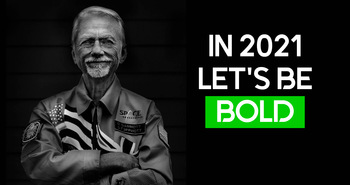 In 2021, let's be bold
from January 1, 2021
To an extraordinary new year where, we hope, all types of boldness will be allowed again. In 2021, after 20 years during which you have followed our adventures and we have followed yours, we look forward to your wildest dreams coming true. We wish you and all those around you a lot of happiness. Happy arty 2021!