The Gallery's latest news
Discover all the lastest news from the gallery, our artists, their works and upcoming exhibitions.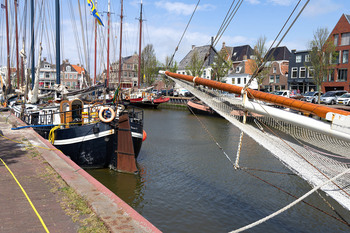 Artist at Home: Peter Keizer
from May 10, 2022
Far away from the Camargue, at the northern tip of the Netherlands, lies the Wadden Sea, considered the world's largest uninterrupted system of mudflats and sandbanks and a UNESCO World Heritage Site. And it is in this unique location that our artist Peter Keizer and his wife Astrid have been living for ten years now. They moved from the center of Amsterdam to an old school in a small village by the sea, where they found all the space they needed for Peter's studio and the fresh sea air that nourishes his creativity. In the heart of this natural environment, the artist's oil paintings of bright flowers and his sculptures of playful dogs blend into the idyllic country setting of their home. Welkom bij de artiest!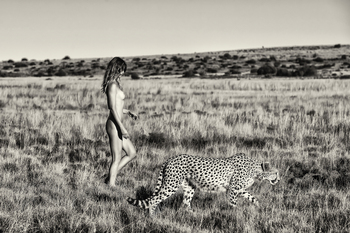 Solo Show Cécile Plaisance: Wild Women
April 7 - May 10, 2022
From the iconic Barbie to living human muses, Cécile Plaisance, a politically committed artist, has never stopped fighting for women's emancipation. Her famous lenticular photographs are odes to the freedom of women everywhere. In her new series of black and white photographs, taken in South Africa, she immerses her models in a nature that is unfortunately in danger, free and in perfect osmosis with the wildlife. During the opening, the artist and her model Olga Kent will present the origins of her work and the behind-the-scenes production of this original project.


Opening on 7 April 2022, from 6 to 10 pm
In the presence of the artist
24, rue Treilhard - Paris 8
RSVP required before April 4th: kathy@kplusy.com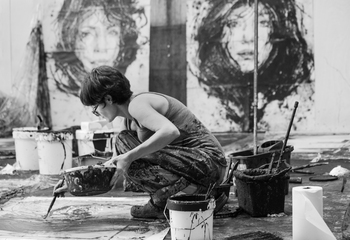 Artist Focus: Lídia Masllorens
from March 20, 2022
The presence of the portraits by Catalan artist Lídia Masllorens lies in the power of black paint and their extraordinary dimensions. Painted in several stages on the floor on sheets of paper that she then assembles, they impress with their often intense gaze and archetypal beauty. The portraits are painted in black acrylic on paper, a process of colour removal, using water and bleach, and not superimposition, thus using a subtractive, rather than additive, technique. This technique allows for the beautiful colour palette that distinguishes her work; with shades from pink to white and black to grey. A graduate in Fine Arts from the University of Barcelona in 1991, Lídia Masllorens exhibits regularly in Spain and has also specialized in photography, sculpture and engraving. In recent years, her portraits have toured the world, notably at the Sorbonne Catalan Art Centre in Paris, the Osaka Contemporary Art Centre in Japan, but also in galleries in Cologne, Antwerp, Barcelona and Paris, and have met with resounding success.
When she evokes her inspirations, Lídia says she finds them in art: "You might think that my inspiration is fashion photography, but photography is just a tool, like brushes, black color, or using large formats. My real inspiration is the work of other artists, the likes of Botticelli, Picasso, Warhol, Barceló, Dumas, Peyton... or any other contemporary artist you can find in an art exhibition or art fair."
In the creative process, the artist is most interested in the way a painting is worked: "I work indirectly: horizontally, on the floor on a large plastic sheet... the result is a unique imprint on the paper. I need the large format to be almost more physical than mental work, in which chance and surprise are very important. I am looking for an approximate figuration, to suggest rather than to tell. Faces are an excuse for this formal work. For me, the concept appears by itself when the painting has a mirror effect on the viewer."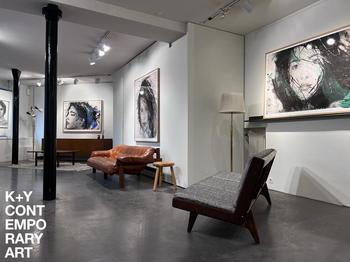 Envie d'Art is duplicating
from March 10, 2022
We are very happy to announce an important change for the gallery. Strengthened by our 20 years of experience, we wish to promote without limits the most ambitious projects of our artists: this is why Envie d'Art is duplicating itself and presenting you today two complementary galleries.
The K+Y Contemporary Art gallery will present a demanding selection of the best international artists, including long-time supported artists as well as new emerging or established artists, who will be accompanied in their numerous projects. In parallel, it will present a sharp selection of 20th century design furniture, with rare pieces sourced by us from all over Europe. A new website www.kplusy.com is associated with it, and each month, solo shows or group exhibitions will punctuate the Parisian cultural agenda in the gallery at 24, rue Treilhard, which will henceforth focus on K+Y exhibitions. The gallery will also participate in numerous prestigious fairs around the world. Save the date: first K+Y opening on 7 April 2022.
The website enviedart.com presents a rigorous and broader range of artists, as it has since its inception. Travel the world discovering paintings, collages, photographs and sculptures from our artists around the world and find your favourite. We're working to optimise your online experience, so buying art is never easier, no matter where you are. If you wish to view the works, you can make an appointment to visit the K+Y gallery at 24, rue Treilhard. Through the Envie d'Art newsletters, you will discover the careers of our artists, our collectors and weekly selections of works. Finally, you will continue to find Envie d'Art at the Affordable Art Fair throughout the year, from Singapore to New York, via Brussels, Amsterdam and London. Save the date: AAF New York, March 24-27, 2022.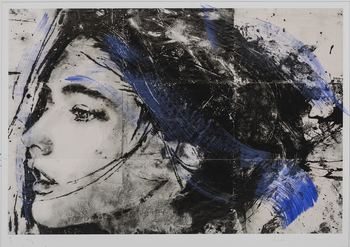 New artist: Lídia Masllorens
from March 7, 2022
The project of the Catalan artist Lídia Masllorens is to create an archetypal portrait of the beginning of the 21st century. Her large-scale works have a strong presence and exude a remarkable dynamism and vitality. Her portraits have been exhibited at the Sorbonne Catalan Art Centre in Paris, the Osaka Contemporary Art Centre in Japan and at numerous European and American art fairs. At present, she continues to experiment with close-up shots of faces in her studio in Cassà de la Selva. We are pleased to exhibit her work at the K+Y gallery, 24, rue Treilhard (Paris 8), until April 6th.

See all the works of Lídia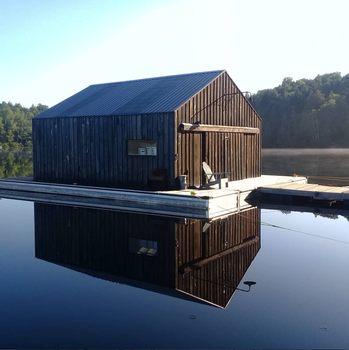 Artist at Home: Peter Hoffer
from February 15, 2022
Canadian artist Peter Hoffer has lived in the world's biggest cities, from Toronto to New York, via Paris, Montreal and Berlin. Perhaps that's why he suddenly felt the need to escape the urban hustle and bustle to create a lair in the Laurentians, forty kilometres from Montreal, on the shores of Bark Lake and in the heart of a forest. There is a comfortable cottage, a summer studio floating on the water and pontoons from which he can go fishing with his two sons. This is not surprising for the artist who has a passion for trees, which he has been painting for a very long time. Therefore, even if they come straight out of his imagination and memories, the influence of the great outdoors and the forest can only be a catalyst for his meticulous work. Take a flight to the far north with this feature on a painter like no other, by subscribing to our newsletter!

See all the works by Peter Hoffer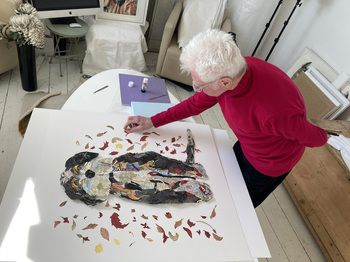 Artist Focus : Peter Clark
from February 10, 2022
Peter Clark's work causes the kind of double take you do when you look at a piece and think, "Oh, very nice!" and then say, "Wait a minute; is that a map?" And then you look again and see not only a map, but postage stamps and maybe part of a cigarette pack and the corner of a label from an old tin; and soon you're wishing you'd brought your magnifying glass so you won't miss a single detail. Peter's garments and dogs and other "beasts" are fabulous constructions incorporating all manner of choice bits from his vast collections of paper ephemera, and they have become popular with collectors across both the US and Europe. He began his collage career as an illustrator who was fascinated by little bits of paper, and it took off from there. The illustration work, in turn, began with a lifelong love of drawing, alongside his wife Karen Nicol, a textile artist we also represent. Plunge into the fascinating world of Peter Clark, who graduated from the Manchester College of Art and who dedicated his career to giving a second chance to abandoned pieces of life.
Peter gets a lot of ideas from talking with people, mainly his wife Karen Nicol. Their daily coffee break over, they return to their studios. If it's going well, then that's it: fabulous! When things do not, he favors taking long, aimless walks through downtown London, looking at people and taking in colors and textures —sometimes all it takes to get things moving in the right direction. Although he does not keep a formal sketchbook, he does carry some sort of notebook and a small digital camera, always on hand to capture what inspires him. Ideas come from anywhere and everywhere: Magazines, fashion, TV, people-watching, walking down streets and through woods, looking at the sky... "I usually do lots of thumbnail sketches to determine how I want the image to look layout-wise. I then either photocopy my chosen sketch to enlarge it or draw it up to the size that I'm happy to work with. I then transfer my drawing onto tracing paper so that I can see my papers through it, like working with a silhouette. Then comes the part that is both the most difficult and the most satisfying, depending on how it goes: assembling the collage. I rummage through the dozens of plastic bins that line the walls of my studio, hoping for that moment of serendipity. When it comes, life is good; and I can lay out the papers and begin working with them. I position these so that the colors work, the line works and the mood works. I want the papers to merge. I want it to feel like I'm painting with pieces of paper! When I'm happy with my choices, I tear, cut, fold, scrunch and rip and compose the piece. Some of this process is very calculated, and some just happen, though one must know that it's happening and go with it. Then there are total accidents that are wonderful: I love this part!"
What he wishes to share through his work? "I look at collage rather like music mixing and multiculturalism: exciting and, if done sensitively, it can go anywhere and do anything. You must avoid the 'you can do anything on computers these days' syndrome. To that end, I try to resist computer manipulation, preferring instead to do hands-on work with actual pieces of paper and glue. So I hope people are sensitive to these patchworks that encapture pieces of life!"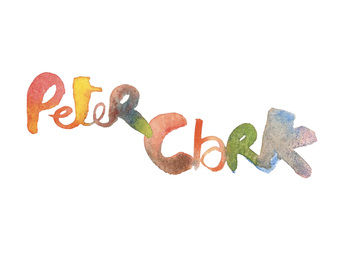 New artist: Peter Clark
from February 1, 2022
After a long career alongside his wife Karen Nicol, British artist Peter Clark also joins Envie d'Art to present his chimerical animals in collages. Perusing flea markets, antiques, second-hand shops and garage sales of all kinds, the duo find the material they need for their fantastic creatures. Peter abandons new technologies to concentrate instead on old papers, labels, letters and other magazines, and give them a second life.

Discover the works of Peter Clark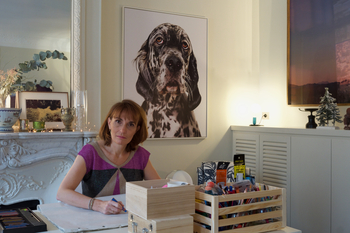 Collector's portrait: Maguelone D.
from January 20, 2022
In the heart of Paris' very chic 8th arrondissement, between the arabesques of the Salle Pleyel and the hustle and bustle of the Place de l'Etoile, lies Maguelone's superb family flat, where she lives with her husband and their two boys. In this Haussmannian cocoon, the former Marketing Director of Hyatt Hotels, a keen photographer and contemporary art enthusiast has created a veritable collection of works over the years, which she chooses according to her whims. Among the fairs and galleries that she follows and visits, Envie d'Art has occupied a place of choice for years since she counts no less than seven artists from the gallery in her collection.

Generally, Maguelone discovers artists she likes at contemporary art fairs or galleries that range from Camera Obscura or Galerie XII, to Envie d'Art, which is next door to where she lives. "I am particularly attracted by photography and the quality of the prints, having done a lot of photography myself in the past, but I can also be won over by drawings or engravings if I like the works! I like soft colours, black and white, simplicity; surrounding myself with softness in short. My husband gives me a lot of freedom in the choice of works, and even if he sometimes has personal favorites, we often agree. I think I'm naturally drawn to works that are reminiscent of childhood. When I started photography, I mostly took pictures of my children, it's a theme that inspires me a lot. It goes hand in hand with dreams, I like dreamlike works that tell stories while letting the imagination run free. In fact, I am more sensitive to works that have a figurative part and an abstract part, which we can interpret as we wish. Finally, I have many works that evoke travel, photographs of cities where we have lived, that we love (New York, Tokyo, London...) or even landscapes such as the desert of Morocco or the great spaces of Arizona. Nature also has a strong place in the art I collect because it is an easy way to escape from a Parisian flat."

So far, there are seven artists who have touched Maguelone at Envie d'Art: "I have works by two photographers, Cat Vinton, whose eye has followed nomadic peoples in very spare landscapes, and Gandee Vasan, whose ability to capture emotions in animals impresses me greatly. I also really like Peter Keizer's flowery and vibrant paintings, Tony Soulié's mix of photography and painting, and recently I became a fan of Vinça Monadé's small abstract pastels. These are the only entirely abstract works I own but they punctuate my photo sets with colour as well as working on their own. Finally, I never cease to be drawn to the delicate and childlike prints of Atsuko Ishii. I don't hesitate to buy them for gifts, as well as the small formats of Richard Heeps, which I like very much even if I don't have any in my own collection yet." To read more collectors' portraits, susbcribe to our newsletter!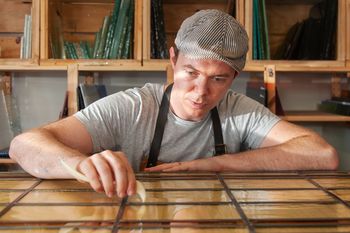 Artist Focus: Arjan Boeve
from January 10, 2022
Surprising is the word that comes to mind when looking at the stained glass works of Dutch artist Arjan Boeve. He uses an age-old traditional technique, largely forgotten by his contemporaries, to tell stories about characters from popular culture, from Tintin and Snowy to Donald Duck. Mixing references, Pinocchio can be seen wearing Nike or you can spot smiley faces on eggs. Born in 1986, this young artist based in Zwolle, in the Netherlands, is no rookie. Commissioned by Disney for Mickey Mouse's 90th birthday, he has since captured the attention of many collectors of stained glass and pop art around the world, especially for private commissions. We are exhibiting him for the first time in Paris, and would like to take this opportunity to present his special profile.

Arjan is very inspired by our modern world, full of fictional characters and heroes. He likes to play with their meaning and values; he uses them as symbols to mirror our own behavior and the changes in our daily life. "We live in a very interesting time, in which the physical and digital worlds meet, and I like to play with that. Exploiting the tradition of stained glass on the one hand and associating it with fictional characters who, in a way, don't belong to this world, but do belong to it. Almost as much as the old biblical stories, they are the heroes and villains of today, guiding our morals. This is a perfect playground to reflect on our system, our culture."

What does he wish to share through his work? "I want to entertain people. To give them an opportunity to pause and show the importance of the things that happen every day. Because we live in a hurried world and miss out on important changes in our society if we don't pay attention to the little things. These change us, they change the way we see the world. I think I was drawn to stained glass because it's a difficult art and craft to master and in some ways, it's no longer connected to our modern world. I want to remedy that, show how relevant it still is, and use the stained glass scene to tell contemporary stories."

See all the works by Arjan Boeve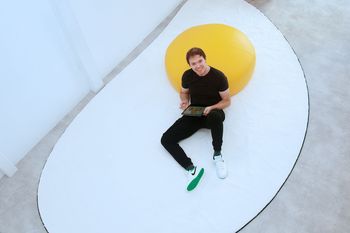 New artist: Arjan Boeve
from January 3, 2022
We are pleased to announce the arrival in 2022 of an artist with a unique and original technique, Arjan Boeve. Influenced by his experience as an animator, the Dutch artist works exclusively with stained glass. Fascinated by the way the properties of glass influence the lines, he uses the technique called Tiffany, which involves adjusting shaped glass with copper foil edges. In 2018, Arjan was commissioned by Disney to participate in the celebrations of Mickey's 90th birthday. This marked the start of a series of stained glass art pieces that celebrate the iconic pop culture of our time.

Discover the works of Arjan Boeve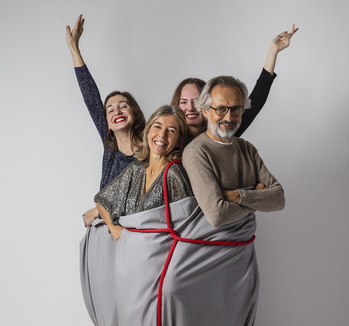 In 2022, free your arty side!
from January 1, 2022
This New Year, we wish you all the best: to surround yourself with beauty every day, to bring out the best in yourself, to make all your dreams come true... and so much more. On our side, we will seek out and guide more and more artists to showcase their talent in all four corners of the world, and we have many exciting projects to surprise you! Finally, we wish you and all those around you a lot of happiness.

Happy arty 2022,
The Envie d'Art team