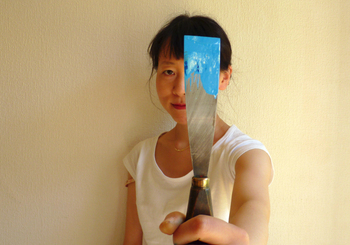 Artist Focus: Atsuko Ishii
from December 20, 2020
Atsuko Ishii's career began in 1995, having just arrived in France from her native Japan after the Kobe earthquake. The self-taught artist with immense talent tells us that art was not her vocation but she decided at that moment to accomplish something she had never done before. It was thus when she met a friend in Paris who worked at the Atelier de la Gravure that she launched herself into etching. Since then, she has never stopped creating her delicious, detailed, mischievous and poetic little engravings, which transport us into an imaginary world where children and teenagers, skateboards and flowers, but also rockets, guitars and rainbows, come together. Dive into the heart of her dreamlike universe, which can be found over time on Isabel Marant's clothes or on the shelves of Le Bon Marché, and which has enchanted us for many years.
Atsuko doesn't really have any sources of inspiration apart from what comes to her when she creates her drawings, on the spot: "They are images that float in the air and if I'm lucky, I catch them. I often compare these real objects, which do not quite reflect reality, to spontaneous encounters, to moments that do not last in time, but which can become permanently anchored in our imaginations. Ma, in Japanese, is the concept of a certain in-between, of empty space and silence, which links two separate objects or phenomena, and it takes an important place in my work".
The artist works long hours, every day, in her studio in Vincennes. She starts by drawing directly with drypoint on the varnished copper plate, all at once, without sketches. Then comes the acid bath which will shape and transform the line: she likes etching because it is not immediate, it is a process which leaves a part of the unexpected. Once the series is finished, she chooses a title for it. She can spend a lot of time on it and just like in Japanese Haiga drawings and Haiku poems, the title and the image are an inseparable whole. "My wish would be that people enjoy my engravings as they enjoy a cup of coffee or chocolate. It's a fleeting moment, which doesn't last, like a little sparkle. I don't really give them any direction and everyone can interpret them as they wish."