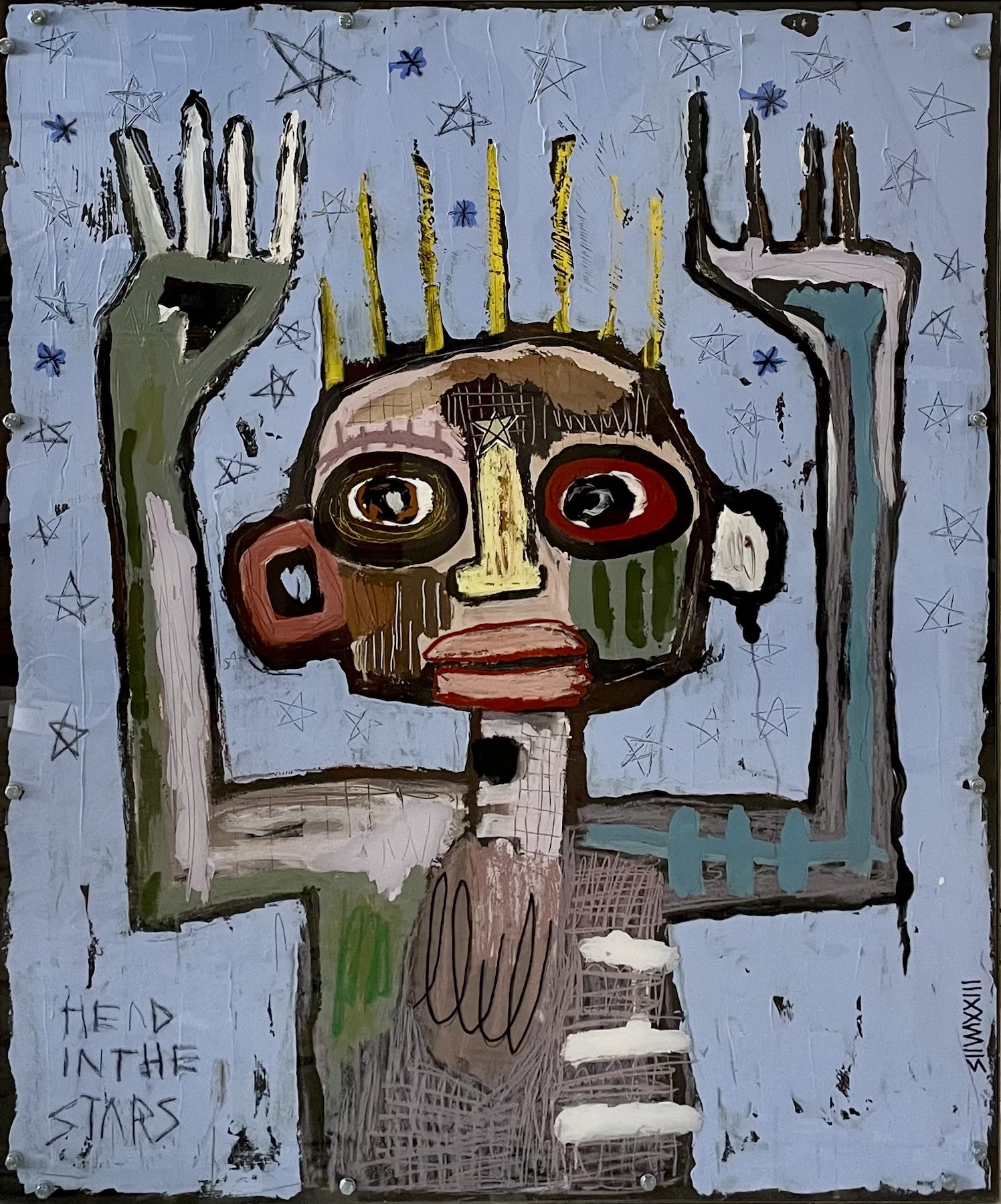 about the artwork :
Head in the Stars , 2023
about the artist :
"True art is always where you least expect it. ". These few words by the artist Jean Dubuffet wonderfully qualify Silvia Calmejane's work. Spontaneous and instinctive, her artistic gesture echoes the "art brut" avant-gardes which inspired her drawing practice. Silvia Calmejane quickly freed herself from academic rigorism in order to choose automatic drawing. By abandoning the classical support of the canvas and by focusiong on wood, her art gets rid of the rules which dictate the exact reproduction of reality. On the plexiglass, her second support, she uses her left hand - freer - in order to write more spontaneously. This "mirror-writing", fixed to the wooden panel by visible bolts, is thus superimposed on the raw material. The roughness of her creative process is then completed by the artist's attention to very specific details. In her latest series, paper is invested as a new medium.

Silvia Calmejane's world is raw, powerful and vulnerable at the same time. Representing lush jungles or strange colored characters, her paintings constantly confront the viewer to his own gaze. In this face to face with the mysterious creatures of her universe, she favors - according to her own words - the "non-reproductive". Is escaping from figuration not the best way to represent the unspeakable forces of the human soul ?

Inspired by Basquiat, Raushenberg or Combas, the work of Silvia Calmejane is however deeply personal. In each of her compositions, the artist scatters with the brush traces of her history, travels and inspirations. The words in her paintings, mysterious incantations, recall in that sense the hippie slogans of the 1970s, an important period for the artist.
Head in the Stars , 2023
Mixed media, painted plexiglas bolted on metallic frame
47 x 39 in (120 x 100 cm)
INV Nbr. cals_631
unique artwork
Paris VIII
Price : 7,600 US$
Shipping
Shipping under 7 to 10 days.
When you receive your artwork, you will be able to return it and get your money back within 14 days after without having to justify yourself, of course if the artwork is not damaged.
Questions ?
Do not hesitate to contact us if you have any question about this artwork, the artist or if you want some suggestions to start or complete your personal collection. Please call us at +33 1 53 30 00 10 or by email yannb@enviedart.com