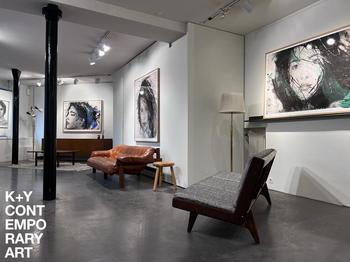 Envie d'Art is duplicating
from March 10, 2022
We are very happy to announce an important change for the gallery. Strengthened by our 20 years of experience, we wish to promote without limits the most ambitious projects of our artists: this is why Envie d'Art is duplicating itself and presenting you today two complementary galleries.
The K+Y Contemporary Art gallery will present a demanding selection of the best international artists, including long-time supported artists as well as new emerging or established artists, who will be accompanied in their numerous projects. In parallel, it will present a sharp selection of 20th century design furniture, with rare pieces sourced by us from all over Europe. A new website www.kplusy.com is associated with it, and each month, solo shows or group exhibitions will punctuate the Parisian cultural agenda in the gallery at 24, rue Treilhard, which will henceforth focus on K+Y exhibitions. The gallery will also participate in numerous prestigious fairs around the world. Save the date: first K+Y opening on 7 April 2022.
The website enviedart.com presents a rigorous and broader range of artists, as it has since its inception. Travel the world discovering paintings, collages, photographs and sculptures from our artists around the world and find your favourite. We're working to optimise your online experience, so buying art is never easier, no matter where you are. If you wish to view the works, you can make an appointment to visit the K+Y gallery at 24, rue Treilhard. Through the Envie d'Art newsletters, you will discover the careers of our artists, our collectors and weekly selections of works. Finally, you will continue to find Envie d'Art at the Affordable Art Fair throughout the year, from Singapore to New York, via Brussels, Amsterdam and London. Save the date: AAF New York, March 24-27, 2022.