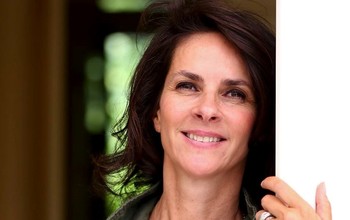 Artist Focus: Marine de Soos
from October 20, 2020
We have been fortunate enough to know and follow for nearly fifteen years the exquisite work of Marine de Soos, a talented sculptor whose early childhood in Africa has left its mark. Her sometimes monumental works take us on a cultural and dreamlike journey through the lands that inspire her, from Africa to the East. She composes her bronze sculptures, human forms with simple and delicate gestures, always communicative. In 1991 Marine decided to devote herself entirely to sculpture and trained alongside an American master, Jonathan Hirschfeld. She then decided to take up her own studio and delivered poetic compositions, full of emotion. Marine is inspired by what surrounds her, and in particular what moves her every day: she sculpts stories. She is inspired by fleeting moments, like suspended images. What inspires her most is the poetry and beauty of our world, the beauty of a gesture. All these moments nourish her imagination, which she then plunges into to recompose her own image. The sculpture is then born, in balance, between strength and fragility.
The artist always designs a metal frame, which is the skeleton of her piece, and works around this frame, in clay or wax, in small touches. The rhythm is slow, contrary to the usual rhythm of our societies, and it is this slowness that she likes. "I usually have several pieces in progress, moving from one piece to another allows me to let them rest, then to find them again with a renewed look each time. "After the creation of the work, the bronze work is another part of her work, which is also very important. She loves the nobility of bronze and is delighted to be able to play with it in space. "I work closely with various foundries. At each stage, I make sure that the new proof that is going to be made is as close as possible to the original writing of the piece. I am therefore present at the foundry at each stage of the "lost wax bronze" process. Once the bronze is cast, it is then a four-handed ballet with the chiseler, with whom I adjust each of his pieces. Finally, I carefully watch over the patina of each sculpture."
"I wish to share these moments of grace, full of energy and joy, which can be captured all over the world by observing humanity. To share this beauty that nourishes and soothes. May I be able to imprint the intensity of the emotions that amaze me and offer it in turn to others."