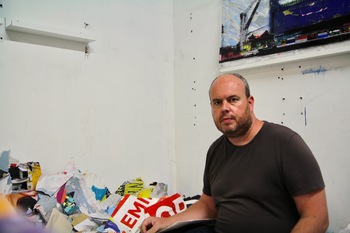 Artist Focus: Florent Touchot
from June 20, 2020
As he wanders through the big cities that are his inspiration, Florent Touchot photographs the streets that define them and tears off the posters that cover them. By superimposing photo and collage, he offers us images, colors, memories that are familiar to us and, despite the lacerations, the coherent dynamic of his works gives us the soul of these cities.
His sources of inspiration are mainly urban, they are cities such as Marseille, London or New York . Each painting is born in the diversity and movement of urban life. The perspectives and alignments offered by a city serve as a basis for his work. But of course, he is also inspired by its walls. Graffiti, concert posters, promotional posters... "I discover colours, typographies and images, like the pin-up cars of the fifties, which I like to associate in my creation. An artist like Jacques Villeglé particularly inspired me with his work on street posters."
Florent would define his work as "photography on Plexiglas superimposed on urban lacerations", a mixture of photography, collage and painting. The starting point is a photograph that is shot on a Plexiglas plate. He then collects posters from the city walls, tears them down and stores them in his studio. "These pieces of posters are for me a real palette of colours and textures. I then carry out a work of recomposition to create a collage in harmony with the photograph in the foreground. I also use acrylic spray paint to enhance certain parts of the Plexiglas or collage."