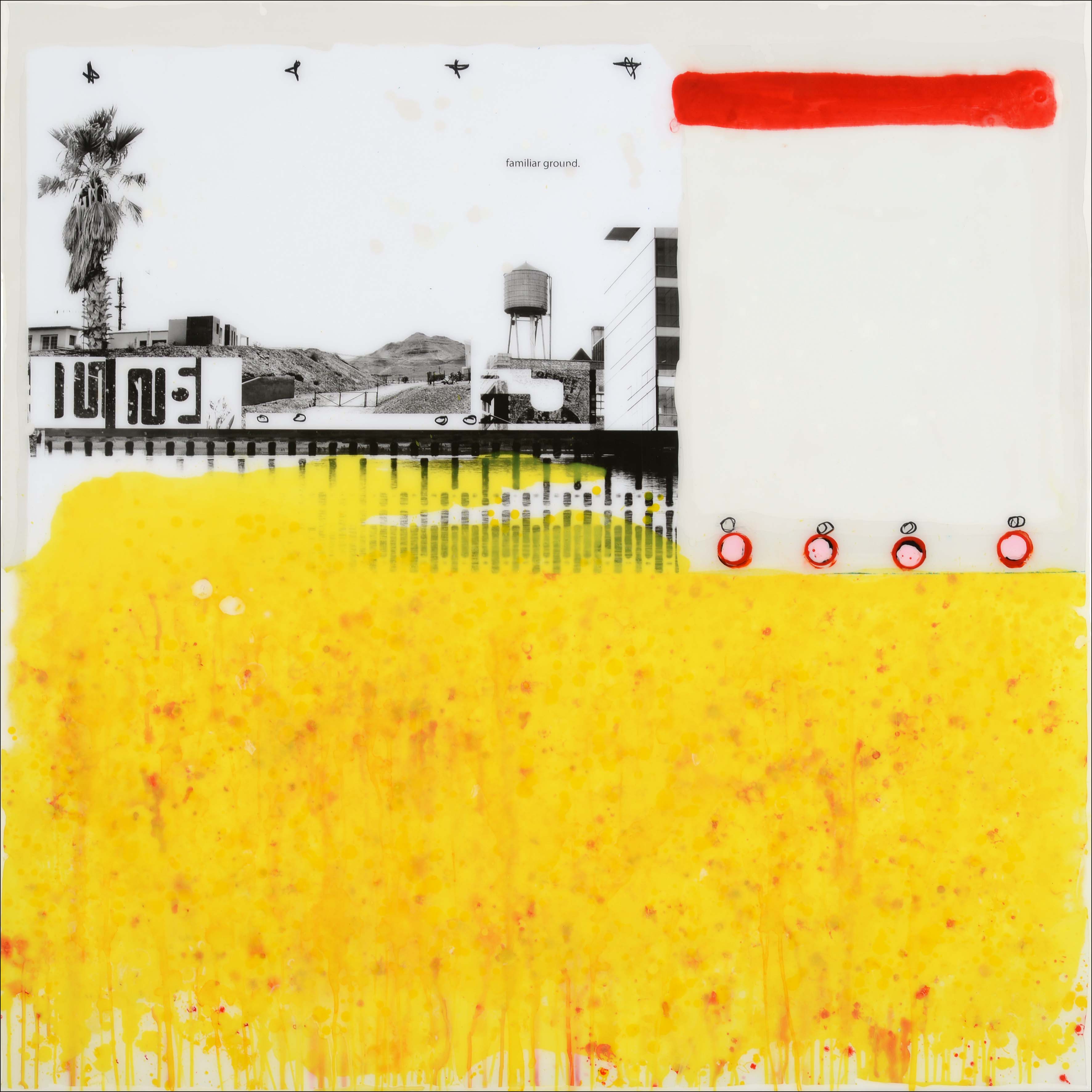 about the artwork :
Familiar ground , 2022
about the artist :
Edouard Buzon's work is characterized by flat surfaces with an impeccable varnish finish. Fascinated by abstract painting, the self-taught artist has shaped his own tools throughout his career in order to achieve his plastic goal. Paying particular attention to color, he selects himslef the raw pigments that make his painting so intense. His works are then meticulously polished in his studio, before being protected from the slightest particle of dust.

If painting remains his first passion, Edouard Buzon has nevertheless not hesitated to invest photography. By making a sporadic use of it, he has created singular compositions where the spectator's eye is permanently solicited by many fragments of various images. In Buzon's alternative worlds, seaside resorts buildings get along with isolated animals, lost strollers and different varieties of exotic plants. These unexpected connections give his work a singular poetic force. However, this use remains anecdotal : "I love photography, it has always fascinated me. But it is not my medium." acknowledges the artist. "I need to appropriate things, images and do it with my hands, armed with colors that I make myself from pigments. Photography is only a step in my work.". Filled with strange and dreamlike landscapes, Edouard Buzon's work is an interior travel diary populated with silent and anonymous characters. Represented from behind, they invite us to join them in their poetic wanderings.

After having used photography, the artist returns to abstraction in his latest series. Researching the perfect balance between color and line, he favors pure geometric compositions where characters have completely disappeared. To provoke a face-to-face with raw color, that is the ultimate stake that underlies each of Edouard Buzon's artworks.
INV Nbr. buze_1690
unique artwork

Shipping
Shipping under 7 to 10 days.
When you receive your artwork, you will be able to return it and get your money back within 14 days after without having to justify yourself, of course if the artwork is not damaged.
Questions ?
Do not hesitate to contact us if you have any question about this artwork, the artist or if you want some suggestions to start or complete your personal collection. Please call us at +33 1 53 30 00 10 or by email yannb@enviedart.com