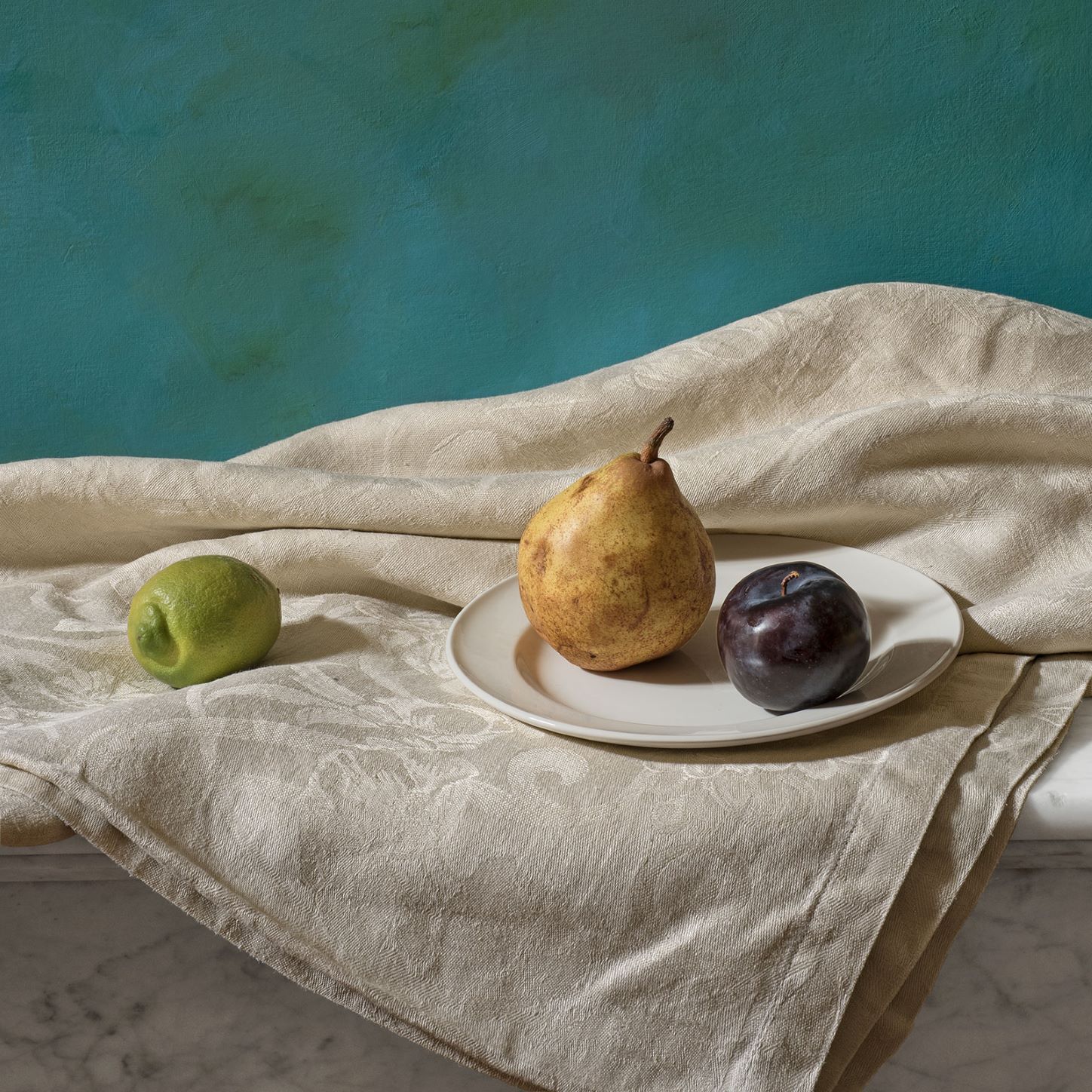 about the artwork :
Nappe, assiette et trois fruits , 2020
about the artist :
Thierry Genay's photography is heir to a style of painting which, in the absence of noble and sublime motifs, is nourished by a perception of everyday life. His photographic compositions are part of this ever-renewed history of still life, itself a mirror of lifestyles, of a daily reality which is thus illustrated, humanistic or spiritual, of a reflection on the harmony of nature, but always an echo of the intimate.

His work is a cabinet of curiosities composed of simple, natural or manufactured objects. These are objects that lose their quality of use to become form and material, thus integrating that of the background. Modest objects that enhance each other to the point where, their values becoming equal, they blend into a composition that slides towards abstraction. It is a work in which one removes rather than adds. It is about orchestrating a precise silence, the expression of a seemingly quiet balance between forms and materials, between fullness and emptiness, between what is seen and what is not.
Nappe, assiette et trois fruits , 2020
Printed with pigmentary inks on Fine Art paper, laminated on Dibond, framed
19,5 x 19,5 in (50 x 50 cm)
INV Nbr. gent_039
Edition of 9 copies
Paris VIII
Price : 1,560 US$
Shipping
Shipping under 7 to 10 days.
When you receive your artwork, you will be able to return it and get your money back within 14 days after without having to justify yourself, of course if the artwork is not damaged.
Questions ?
Do not hesitate to contact us if you have any question about this artwork, the artist or if you want some suggestions to start or complete your personal collection. Please call us at +33 1 53 30 00 10 or by email yannb@enviedart.com