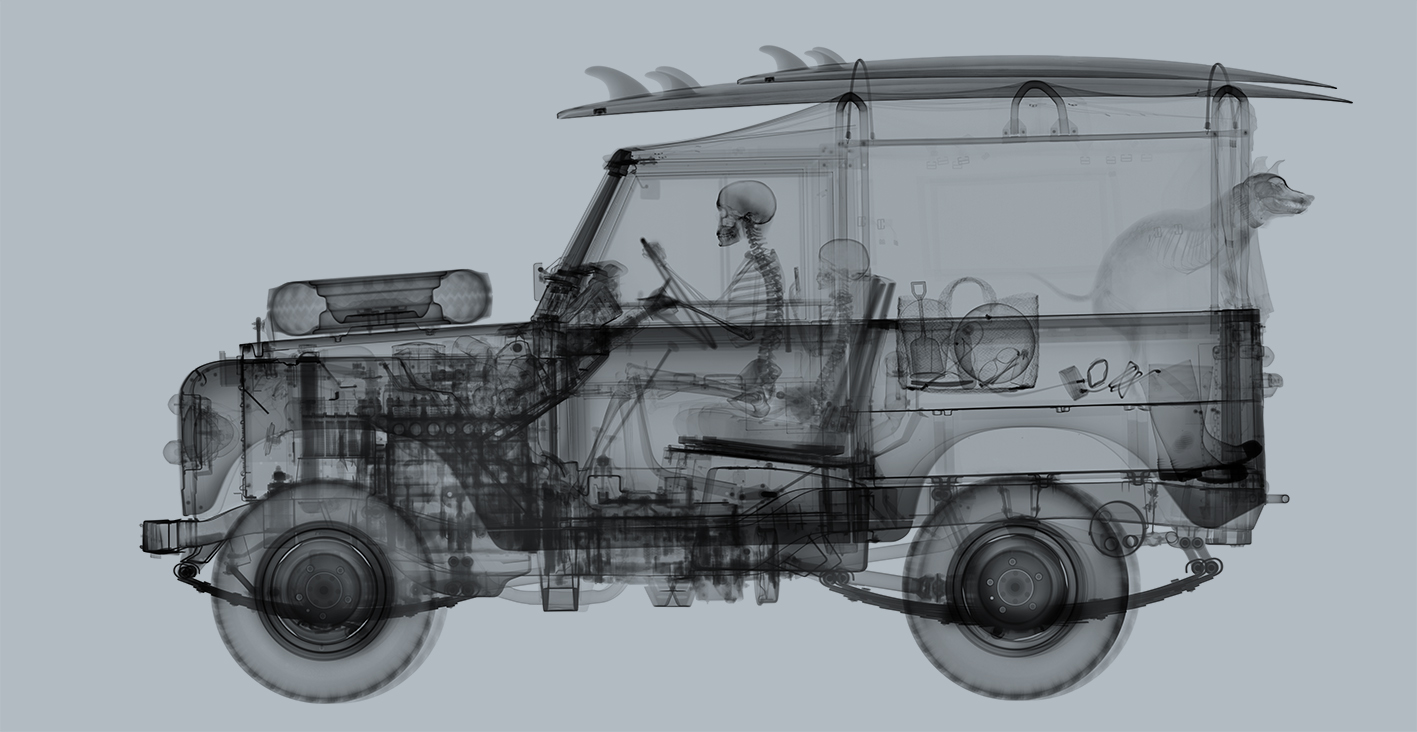 about the artwork :
Land Rover Surfer (Mid Grey) , 2019
about the artist :
Born in 1962, Nick Veasey is a British photographer who lives and works in London. Mainly known for his use of X-rays, his photographs have been used for many adverts – such as Adobe Creative Suite, Nike, IBM, Bloomberg or the European edition of Time Magazine. The initial idea of assimilating X-rays and art came when he worked as a photographer and designer for an English TV show. Veasey photographed his feet one day at work and an artistic director showed support when he presented him the result. Thanks to the help of scientists and numerous experiments on every kind of objects, Nick Veasey never ceased to improve his artistic technique.
"I want to excite people and help them appreciate the things around them in a new way," says Veasey. His artworks convey a mysterious, yet very detailed vision, of everyday life objects (flowers, cars, buses, a Boeing 777…) skillfully blending art and science. The dangerous radioactive radiation is used in order to produce poetics photographs, letting their inner and universal beauty emerge. Hidden mechanisms of our daily life fascinate Nick Veasey, who criticizes our obsession with image and its omnipresence in our society; his artworks are impressively aesthetic with a touch of irony.
This detailed aesthetic is all the more noticeable that the photographs are edited on Diasec. The X-ray technic brings an acute precision, the di-bond and the Plexiglass emphasize the transparency of the whole, which appears as coming off the wall.
From the beginning, this artistic use of X-rays fascinated the more prestigious galleries all over the world. Nick Veasey collaborated with famous brands for their advertisings and also won several photography and design prizes. He was selected as "International Photographer of the Year 2008" by the International Photography Award (I.P.A).
In the past 13 years, Nick Veasey scanned over 4000 objects, allowing us to "see things as they really are". His artworks are exposed in major international collections, such as the Victoria & Albert Museum of London, Pushkin museum of Moscow or Taipei contemporary art museum.
Land Rover Surfer (Mid Grey) , 2019
X-ray photograph, diasec and black aluminium frame
47 x 24 in (118,9 x 61,5 cm)
INV Nbr. Vean_001B
Edition of 25 copies
Internet
Price : 9,675.30 $
Shipping
Shipping under 7 to 10 days.
When you receive your artwork, you will be able to return it and get your money back within 14 days after without having to justify yourself, of course if the artwork is not damaged.
Questions ?
Do not hesitate to contact us if you have any question about this artwork, the artist or if you want some suggestions to start or complete your personal collection. Please call us at +33 1 53 30 00 10 or by email yannb@enviedart.com