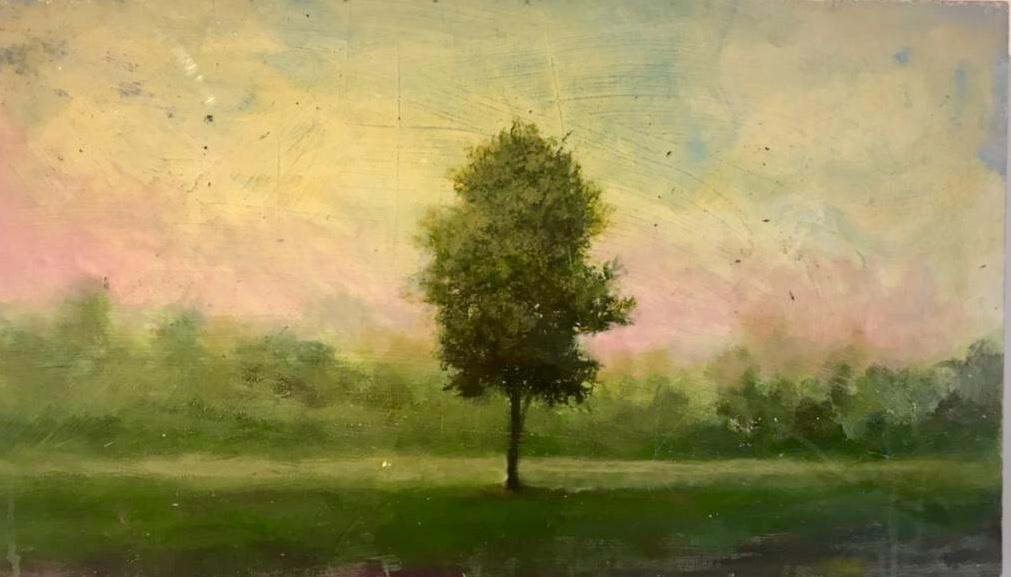 about the artwork :
Morning , 2019
about the artist :
Hoffer's contemporary paintings have been described as being as much about studio materials and techniques as the subjects they convey. He begins his paintings of landscapes and waterfalls with oil paint on wood panels or torn canvas pieces. As an integral part of the process, he cracks, stresses and treats the layers of paint to great washes of runny paint which stain the foregrounds. The paintings are finished with thick coatings of glass-like resin.
This process of exaggerated surface varnishing was extracted from the historical 19th century practice of Parisian-style Salon exhibition. Viewers standing before them become part of the scenery itself, as their reflections are superimposed. For the artist, this sets up a necessary balance between the naturalness of the painted and organic landscape and the artificial sense of the precious "objet d'art." In a sense, the painting adopts certain characteristics of the landscape, forever changing and evolving as material breaks down and alters composition.
INV Nbr. hofp_426
unique artwork
Paris VIII
Price : 4,123.90 $
Shipping
Shipping under 7 to 10 days.
When you receive your artwork, you will be able to return it and get your money back within 14 days after without having to justify yourself, of course if the artwork is not damaged.
Questions ?
Do not hesitate to contact us if you have any question about this artwork, the artist or if you want some suggestions to start or complete your personal collection. Please call us at +33 1 53 30 00 10 or by email yannb@enviedart.com