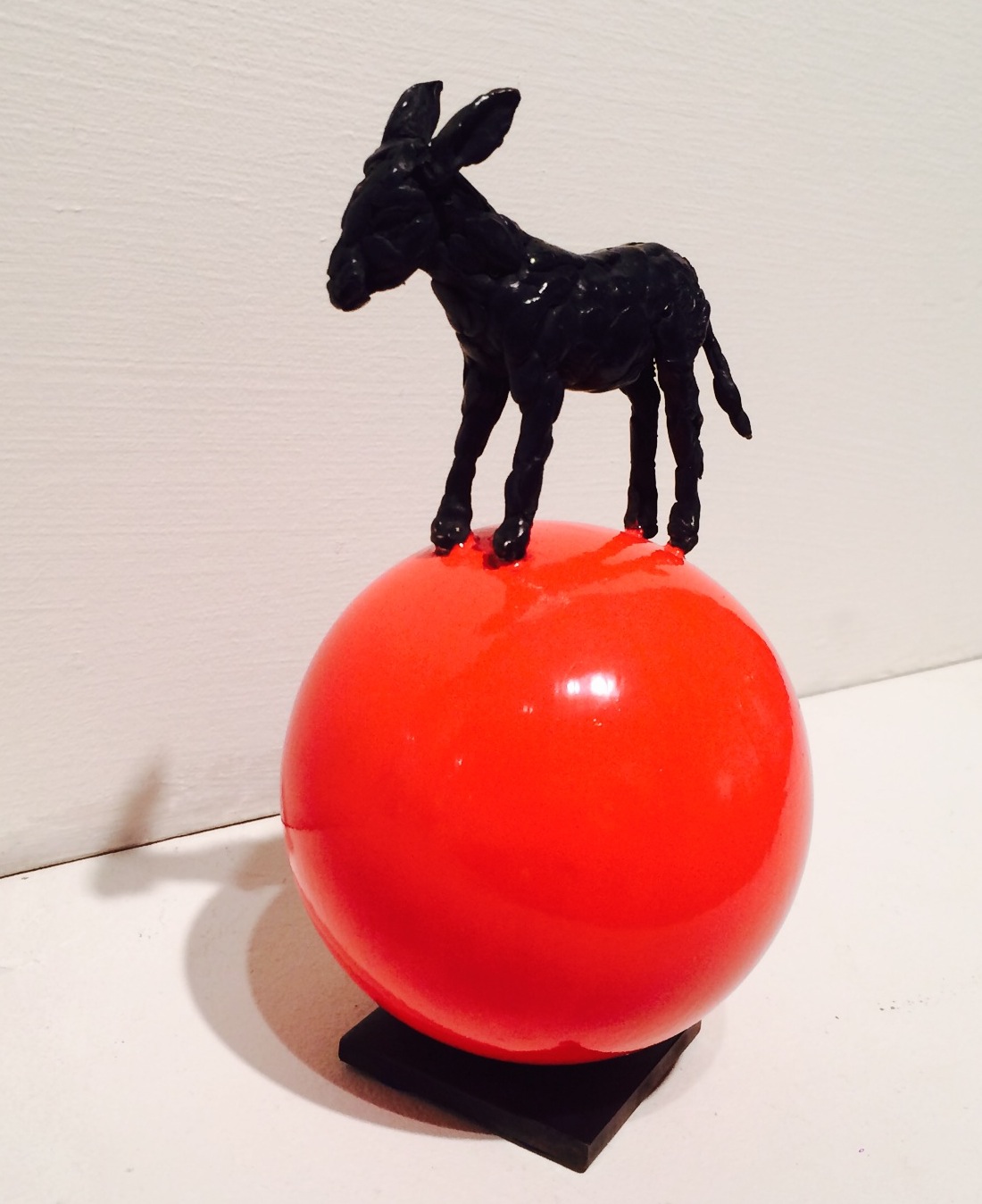 about the artwork :
Cadichon , 2015
about the artist :
Charlotte Champion is a sculptor who works with clay, plaster, wood or wax before molding and casting her pieces in bronze. Some of her creations are embellished with a touch of bright color that she adds to the material's patina.

Her work is exclusively dedicated to the vegetal and animal world. Charlotte Champion's bestiary is inhabited by balancing elephants, acrobatic rabbits and birds about to take flight. Solidly fixed on their metal pedestals, they all defy the laws of gravity as an ultimate attempt to escape.

If Charlotte Champion exploits the animal world's motives, the origin of her passion goes back to her childhood: "I recently found sculptures made when I was 7 or 8 years old, there are only animals, I had forgotten them. It is surprising to see that years later, I continue to treat the same subject without getting tired of it.", says the artist.

This aesthetic preference is coupled with a real interest for the animal cause. "Nature, both plant and animal, surrounds me and inspires me. I try to give it life and lightness by presenting it in a material, bronze, which is eternal. Animal species disappear every day, and some people continue to treat animals as objects and not as living beings. May my work make people aware of the need to safeguard and care for nature and animals.", she finally saids.
INV Nbr. chac_037
Edition of8/8
Internet
Price : 2,350 US$
Shipping
Shipping under 7 to 10 days.
When you receive your artwork, you will be able to return it and get your money back within 14 days after without having to justify yourself, of course if the artwork is not damaged.
Questions ?
Do not hesitate to contact us if you have any question about this artwork, the artist or if you want some suggestions to start or complete your personal collection. Please call us at +33 1 53 30 00 10 or by email yannb@enviedart.com