about the artist :
Karen Nicol
Karen Nicol is a mixed-media and embroidery artist and designer from Britain. Based in London, she is now a honorary fellow at the RCA, and has been a visiting professor for twenty years. She was made Royal Designer for Industry by the RSA in 2015 and has exhibited her work in solo shows and fairs accross the world.

Since 2010 Karen has worked as an artist, making her embroidered and sculptured animals, specially created creatures with bespoke, haute couture materials ranging from Napoleonic polar bears to jewel encrusted deer and fringed and sequined zebras. Most of the materials she uses come from car boots and flea markets, and she uses a 50-year-old Singer sewing machine. As she has worked with so many creative minds throughout the years, on commissions and collaborations with the likes of Clements Ribeiro who asked for a "Frida Kahlo meets Singapore whorehouse" collection, she truly lets her imagination run wild.

Karen Nicol's mother and sister were both embroiderers, and even though Karen wanted to study Fine Arts, she found that nothing beat the diversity of textiles and went to the Royal College of Arts for a Masters in embroidery. For many years she has created fashion textiles for prestigious fashion brands, from Alexander McQueen to Chanel and Givenchy and has counted clients such as the King of Qatar or the Pope himself!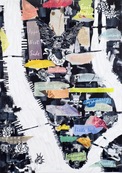 Mixed media, plexiglas framed
40 x 29 in (102 x 73 cm)
unique artwork
10,520 US$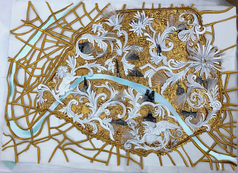 Mixed media, plexiglas framed
42 x 29 (106 x 75 cm)
unique artwork
10,520 US$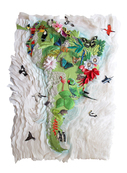 Mixed media, plexiglas framed
42 x 31 in (106 x 79 cm)
unique artwork
10,520 US$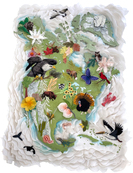 Mixed media, plexiglas framed
41 x 31 in (106 x 70 cm)
unique artwork
10,520 US$
Mixed media, plexiglas framed
36 x 46 in (91 x 116 cm)
unique artwork
Sold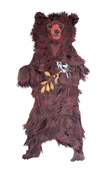 mixed media, embroidered and pleated silk
66.9 x 35.4 in (170 x 90 cm)
unique artwork
12,080 US$
mixed media, embroidered
39.3 x 24 in (100 x 61 cm)
unique artwork
Sold