Shows & Exhibitions
Our gallery in the 8th arrondissement of Paris welcomes you with thematic exhibitions throughout the year. An opportunity to discover the works of our artists in all their splendour.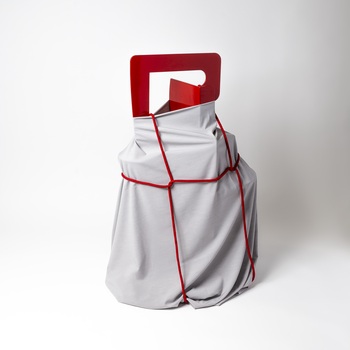 Wrap Art for Christmas
November 23 - December 24, 2021
Finding, choosing, wrapping, giving: including art in your Christmas presents is a unique and incomparable pleasure. To realise that the person who has given us a piece of art knows us inside out, to discover a new talented artist whose work will never tire us, all these things we wish you for Christmas. Wrap it up, unwrap it, or just come and look at some art this end of year 2021 - Happy Arty Christmas!

See the wrapped artwork
Wrapping in hommage to Christo & Jeanne-Claude
Learn more about the exhibition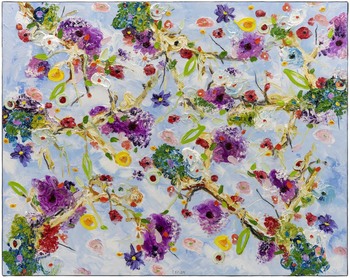 Solo Show Peter Keizer
05 - November 22, 2021
For many years, Dutch artist Peter Keizer has been painting pictures that are full of life. Evoking nature, and more particularly the abundance of flowers, his paintings are a sure-fire remedy for the falling temperatures and shortening days. In parallel with Damien Hirst's "Cherry Blossom" exhibition at the Fondation Cartier, let's celebrate the blossoming of spring flowers in the heart of autumn, until 22 November at the rue Treilhard gallery, where you will discover the latest works of the painter-sculptor. The mood is one of revival!

See all the works of Peter Keizer
Learn more about the exhibition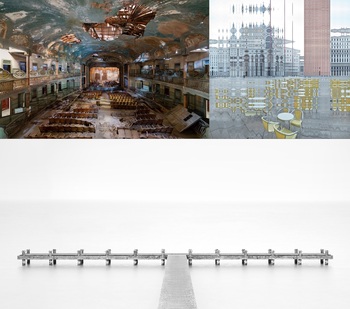 Échos du réel
October 13 - November 4, 2021
Photography is an art form that has the power to capture reality while transforming it, our imagination takes over and we shape the images of the world to our whim. Come and discover three photographers who will take you on a journey, through works that challenge our perception and give us a new perspective on places and atmospheres. Dimitri Bourriau's mysterious theatres, Didier Fournet's kaleidoscopic cities or Antoine Gaussin's poetic shores: artistic echoes of the world as we know it.

Vernissage on Wednesday October 13, from 7pm
In presence of the artists
24 rue Treilhard, Paris 8
RSVP compulsory: cathy.bombard@enviedart.com (+33 6 80 07 41 89)
Learn more about the exhibition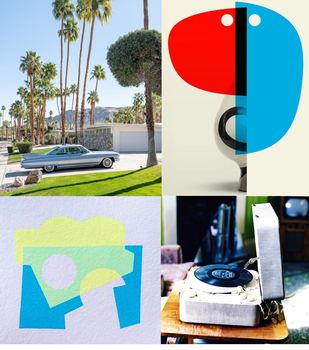 Back to the Fifties
September 16 - October 12, 2021
The fifties, in terms of art and design, have not aged a bit. Many of our artists are inspired by this era and we ourselves have a magnetic attraction for vintage furniture from this period. This exhibition, consisting of works by Marcel Ceuppens, Patrick Lajoie, Nicolas Dubreuille and Richard Heeps, will be complemented by pieces of furniture that will instantly plunge you into this post-war time, resolutely modern and timeless.

Vernissage on Thursday September 16, 2021, from 7pm
Galerie Envie d'Art Paris 8 - 24 rue Treilhard
RSVP compulsory: cathy.bombard@enviedart.com (+33 6 80 07 41 89)
Learn more about the exhibition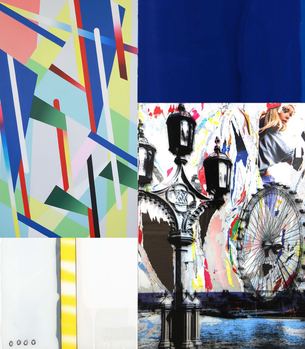 Un été chromatique
01 - July 30, 2021
The season is all about colour, sunshine and generally celebrating life. In July, we are exhibiting three artists who are disciples of colour and are constantly searching for perfect pigmentations, associations and shades of colour. Edouard Buzon creates his own colour pigments while Nicolas Dubreuille assembles them in a play of superimpositions and transparencies. Florent Touchot, for his part, finds his colours in the city, from the posters he tears down and reassembles into collages.

Galerie Envie d'Art Paris 8 - 24 rue Treilhard
More information: cathy.bombard@enviedart.com (+33 6 80 07 41 89)
Learn more about the exhibition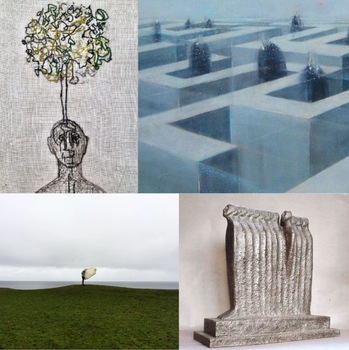 Solo Show Yanne Kintgen
05 - June 28, 2021
We are delighted to present "Un moment de flottement", Yanne Kintgen's Solo Show, with a large selection of the multi-faceted artist's work, which she has been creating for over fifteen years. Bronze sculptures, embroidery, video installations and oil paintings: no technique eludes her. Discover the work of the fascinating Yanne Kintgen, a generous artist who never stops exploring the boundaries of her imagination, her technique and her metaphysical concerns.


Galerie Envie d'Art Paris 8 - 24 rue Treilhard
Private viewing of the exhibition Saturday June 5, from 3 to 6 pm.
More information: cathy.bombard@enviedart.com (+33 6 80 07 41 89)
Learn more about the exhibition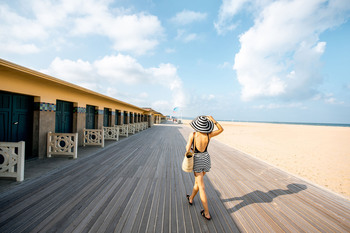 Pop Up Gallery - Deauville
May 22 - September 12, 2021
Whether you are a film buff or a seafood lover, Deauville has something to offer everyone who steps foot on its famous beaches. Envie d'Art opened a pop up gallery on the seafront, 200 metres opposite the Casino, where you will find the gallery's key artists: Cécile Plaisance, Edouard Buzon, Silvia Calmejane, Jeff Robb, Antoine Gaussin and many others, in a summery context, to the sound of the Atlantic waves.

Place Claude Lelouch, 14800 Deauville
Open from Thursday to Monday, all summer.

Learn more about the exhibition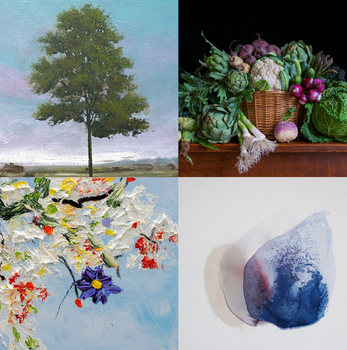 De Natura
April 8 - May 30, 2021
Spring is the season that brings out the diversity of nature, from the gushing of streams to the melodies of birds. The plant world comes back to life after months of immobility and this gives artists the opportunity to praise its beauty. We have gathered the works of four artists who, in all seasons, are inspired by the vegetation that surrounds them. Discover the latest photographic still lifes by Charlotte Fröling, Peter Hoffer's tree portraits, Peter Keizer's raised flowers and Patricia Erbelding's more ethereal ones.

More information: cathy.bombard@enviedart.com (06 80 07 41 89).
Learn more about the exhibition
Eclats d'âme
05 - March 31, 2021
Spring is approaching, the days are getting longer and our hearts are in joy. To celebrate the bursts of soul that accompany the arrival of beautiful days, we are delighted to exhibit for the first time in a long time the superb embroideries of the British artist Karen Nicol, who in her new series celebrates the diversity of the world's cities and continents. We will also be exhibiting Silvia Calmejane's latest creations, which as always carry messages of hope, as well as those of Edouard Buzon, abstractions in full colour.

Due to the latest measures, the gallery is unfortunately closed to the public until further notice, and we will be very happy to meet you there as soon as possible. We will ensure deliveries as usual, offer the Click & Collect, and if you wish to see the exhibition by videoconference or for any other information, do not hesitate to contact us: cathy.bombard@enviedart.com (06 80 07 41 89).

Learn more about the exhibition
Saint-Valentin
08 - February 14, 2021
All you need is love. This year, say it with flowers... or with art. While we wait for the buds to blossom and the birds to start singing spring, we celebrate everything that makes our hearts beat on Valentine's Day. Passionate kisses in Paris, Vaporetto rides in Venice, and flower bouquets as far as the eye can see; if it is difficult to say it in words, here are some works that will help you declare your love.
Learn more about the exhibition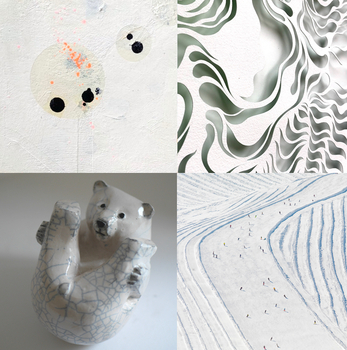 White Variations
February 5 - March 3, 2021
February is traditionally the winter month dedicated to snow. If this year we won't be able to enjoy winter sports as usual, we wanted to pay tribute to the beauty of this immaculate colour, so we have brought together in the gallery the works of our artists who celebrate white, on a wide variety of mediums. You will thus discover the refined works in paper cut-outs by our new artist Muriel Kerba, but also Elise Oudin-Gilles' latest paintings, Raku-yaki ceramics by Bennie, Patrick Smith's photographs of winter resorts and Michelle Y Williams' canvases.

More information: cathy.bombard@enviedart.com (+33 6 80 07 41 89)
Learn more about the exhibition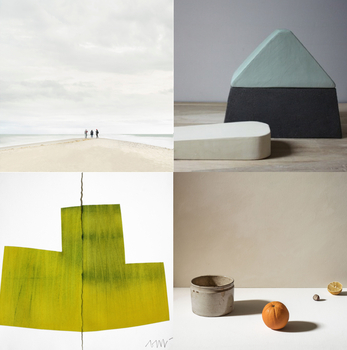 Compositions Minimales
January 8 - February 5, 2021
After the holiday celebrations in December, our exhibition dedicated to minimalism and purity will bring us the long-awaited touch of moderation and serenity. The subtle balance of Antoine Gaussin's beaches mixed with the softness of Vinça Monadé's pastels will be perfectly combined with the astonishing still life precision of our newest photographer, Thierry Genay. Harmony and softness will be the key words of this first exhibition of the year and we look forward to seeing you at our gallery located at 24, rue Treilhard until February 5th.
More information: cathy.bombard@enviedart.com (+33 6 80 07 41 89)
Learn more about the exhibition