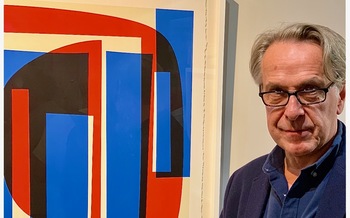 Artist focus: Marcel Ceuppens
from March 20, 2020
Marcel Ceuppens is a positive artist who likes to make people happy. Last year, during a fair, we had an immediate crush on his work. His background as an art director in advertising has given him a keen eye for graphic design, and he is proving to be just as skilled as an artist. Sleek lines, a reduced range of colours, bowler hats and touches of formica... Marcel Ceuppens draws directly from the codes of art and design of the 1950s to create his prints.

"I'm a big fan of contemporary art, but it's mostly mid-century art that has had a major impact on me. And not only painting or sculpture, but also architecture, design, photography, cinema, music or advertising." If he likes that era so much, it's because artists and designers aimed to make things and life better. It was a time full of hope for a bright future. They were really providing answers, finding solutions, all with a great sense of aesthetics. And according to him, everything he does is influenced by this passion.
When Marcel gets to work, he has a vague idea of what he wants, but he doesn't really know where he's going, and why a piece works or doesn't work. "I always say that my abstract compositions are like visual Sudoku. I move, I slide, I change and I wonder about shapes and colors, in all possible directions, until it finally works! So I guess I don't really control where it takes me, I just know when the piece is finished and it's perfect." What does he want to share through his work? "One day, at an art fair, an older man in a suit was looking at my piece "The Bathers" for a very long time. And he was smiling. I asked him why he was smiling, he said he was smiling because it made him happy. That's the nicest compliment I've ever received. So I'd like you to say it makes you happy!"
Time for a short break
from March 16, 2020
Dear all, dear friends,
We hope you are well, that your are taking care of yourself and of your loved ones, and wish you courage in the coming weeks. As you will have understood, the gallery has closed its doors until the storm passes, and we will be very happy to see you there as soon as possible. The fairs we were supposed to attend in the spring have fortunately been postponed to better days, you can keep posted by consulting the fairs section of our website.
In the meantime, the site will be updated daily with new works by our arists and we will take advantage of this period of break in the frenzy of life to offer you some reading about our artists. This way, we hope to take your mind off things. Discover over the weeks - via our newsletters or our Instagram - their inspirations, their techniques and maybe it will inspire you in turn to be creative in your spare time!
Finally, the works will still be available on the site, and despite the inevitable slowdown in delivery circuits, our team will do everything possible to ensure your orders.
If you have any questions, please do not hesitate to contact us:
cathy.bombard@enviedart.com / 06 80 07 41 89
Take care and stay safe
Cathy, Yann, Diane & Amélie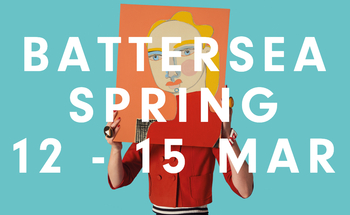 AAF London - Battersea
11 - March 15, 2020
From 11th to 15th March, meet Envie d'Art at the Affordable Art Fair of Battersea in London (Booth D2). You will be able to admire the works of a dozen artists, including the latest addition Nick Veasey, but also Reinhard Görner, Peter Keizer, Cécile Plaisance, Nemo Jantzen and many others.

More information here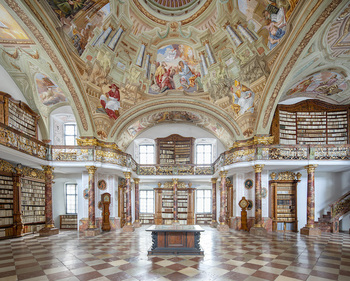 Intertwinings
March 5 - April 15, 2020
Landscapes as far as the eye can see, richly decorated interiors, heights and depths... are all scenery that can be enhanced by simply triggering the small black box. From March 5 to April 15, come and admire the prowess of our photographers, constantly in search of new techniques to sublimate their subjects. You will discover the works of our new artist Nick Veasey, and you will rediscover those of Reinhard Görner, Jeff Robb, Mikael Lafontan and Didier Fournet.

See all the artworks here
Cécile Plaisance at the Musée de l'Homme
March 1 - June 7, 2020
The unmissable Cécile Plaisance is once again at the forefront of the Parisian art scene with her work "La Cène", in which she recreates the biblical scene using Barbie dolls. On the occasion of the exhibition "Je mange donc je suis" at the Musée de l'Homme in Paris, discover her unique vision of the last meal.
More information here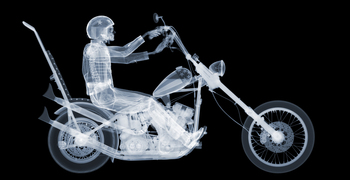 New artist: Nick Veasey
from February 25, 2020
We are very pleased to welcome British photographer Nick Veasey, who for the past 13 years has scanned more than 4,000 objects with X-rays, allowing us to "see things as they really are". We have already presented him at the LA Art Show earlier this month and his work can be seen in major international collections such as the Victoria & Albert museum in London, the Pushkin museum in Moscow and the Taipei museum of contemporary art.

Discover all his artworks here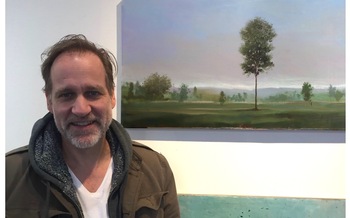 Artist focus: Peter Hoffer
from February 15, 2020
Peter Hoffer portrays trees and invites the public to take a closer look at their posture, details and expressions. The Canadian artist, originally from Ontario, has not abandoned painting or the classic subject of landscape, which he revisits from his contemporary perspective. Inspired by 19th century vernissages, the dripping of the early abstract expressionists and deeply rooted in the artistic tradition of landscape painting, Peter Hoffer shares with us in this interview his processes and his vision of the future.

The trees that Peter paints are not a copy of an existing geography. Sometimes he paints from photographs, but most of the time these trees are reminiscences. However, whether they exist or not, he sees his work as more about technique, about how he perceives the world, rather than the reality of the world itself. A few kilometres from Montreal, Peter has a cottage in the middle of the forest, which has become his lair, a place where he loves to paint. When he gets started, he starts by painting with oil on wood, then the more creative part begins: he applies touches of acrylic paint and several coats of epoxy varnish, which he makes himself. This process was inspired by the varnishes used in the academic painting salons of the 19th century, a way of embellishing paintings and conserving them.

For the artist, it is a question of staging evocative landscapes, which will awaken memories, dreams, a feeling of déjà vu in each one. But at the second reading, if we see more than a landscape but a true reflection on art, the representation of nature and the painting as an object in itself, then he will have succeeded in his wager.

See all the works of Peter Hoffer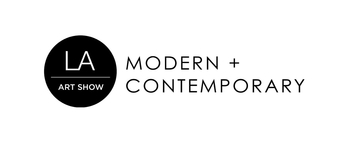 LA Art Show
05 - February 9, 2020
February is the best moment to visit California, AKA the Sunshine State ! If you are in the area by any chance from the 5th to the 9th, don't miss visiting us at booth 1201 of the LA Art Show, in Los Angeles.
More information here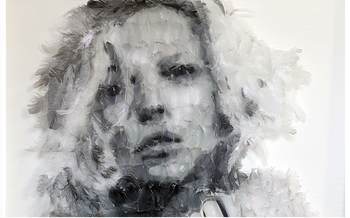 New artist: Marie-Ange Daudé
from January 20, 2020
This month, we are pleased to welcome Marie-Ange Daudé, a feather worker by training, who creates portraits entirely made from feathers, to our team of Envie d'Art artists. Suspended on nylon threads, the feathers create plays of light and shadow, and exacerbate the softness, fragility and femininity of the faces she portrays.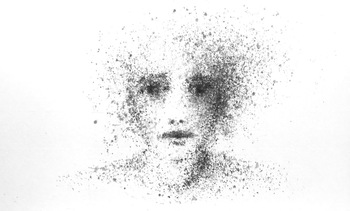 Opening of the exhibition "Poetic Portraits"
from January 16, 2020
We hope to see many of you at the opening of our new exhibition, which will take place on 16 January from 7 to 9 pm, at 24, rue Treilhard (Paris 8), in the presence of the artists.

It will be an opportunity to discover the feathered portraits of our new artist Marie-Ange Daudé, which are an ode to femininity, but also the works of Peter Hoffer which pay tribute to trees and their majesty. Finally, you will meet Hanna Sidorowicz, an artist who evokes our vulnerability through her vaporous portraits.

Register for the opening: cathy.bombard@enviedart.com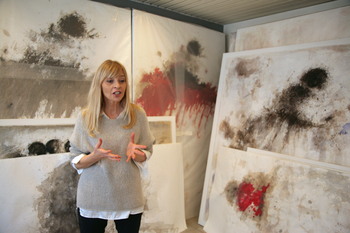 Artist focus: Hanna Sidorowicz
from January 15, 2020
From her years at the Fine Arts School of Gdansk in Poland, Hanna has been captivated by medieval and Renaissance painting. The symbolism, the imagination, the enchantment-- which at that time was communicated only through frescoes, stained glass windows and religious paintings -- gave life a metaphysical touch that we have lost sight of today. From Velasquez's meninas to cherubs and libraries, discover the many inspirations of this extraordinary painter, her creative process and her aspirations.
Like many artists, she is inspired by everything that surrounds us, but with an irrepressible desire to highlight the invisible. Other painters have done it before, like the Meninas for example, a theme that was taken up by Picasso who himself reinterpreted the work of Velasquez. And it was when she saw Picasso's series that she in turn was inspired by these symbolic figures of fleeting youth, of nascent femininity and of imperceptibly developing personalities. Hanna usually paints on paper, which she then pastes onto canvas. As for the colour red, she uses egg paint called "tempera", for the brilliance of the colour. As far as the creative aspect of her work is concerned, everything lies in the process, the repetition, the duration.
Today, she explores a new theme which is that of our reconnection with nature. By adorning the human figure with angel wings made of vegetal branches, she wanted to work on this contemporary need to reconnect with our origins, while keeping an eye towards the future. The idea of interweaving, too, is important to her and is the subject of a new series she started. She creates brush weaves to symbolize the invisible links that connect us to each other and to the world. What she wishes to share ? To offer, for a moment, the possibility of evading into a world that is more mystical than tangible, into an imaginary world that we sometimes lose consciousness of in the frenzy of daily life.
In 2020, let's take the time for art
from January 1, 2020
For nearly twenty years, we have been pursuing our profession as gallery owners with love and passion. In 2020, our wish is to share this passion even more, and to take, together, the time for art. Meeting the artists, contemplating their works, understanding their approach, feeling shared emotions... are many moments of evasion that we wish to live with you. It is a breath of fresh air in our daily lives that we hope to offer you for many years to come. Happy new year to all!
Cathy, Yann, Diane, Anne & Laëtitia