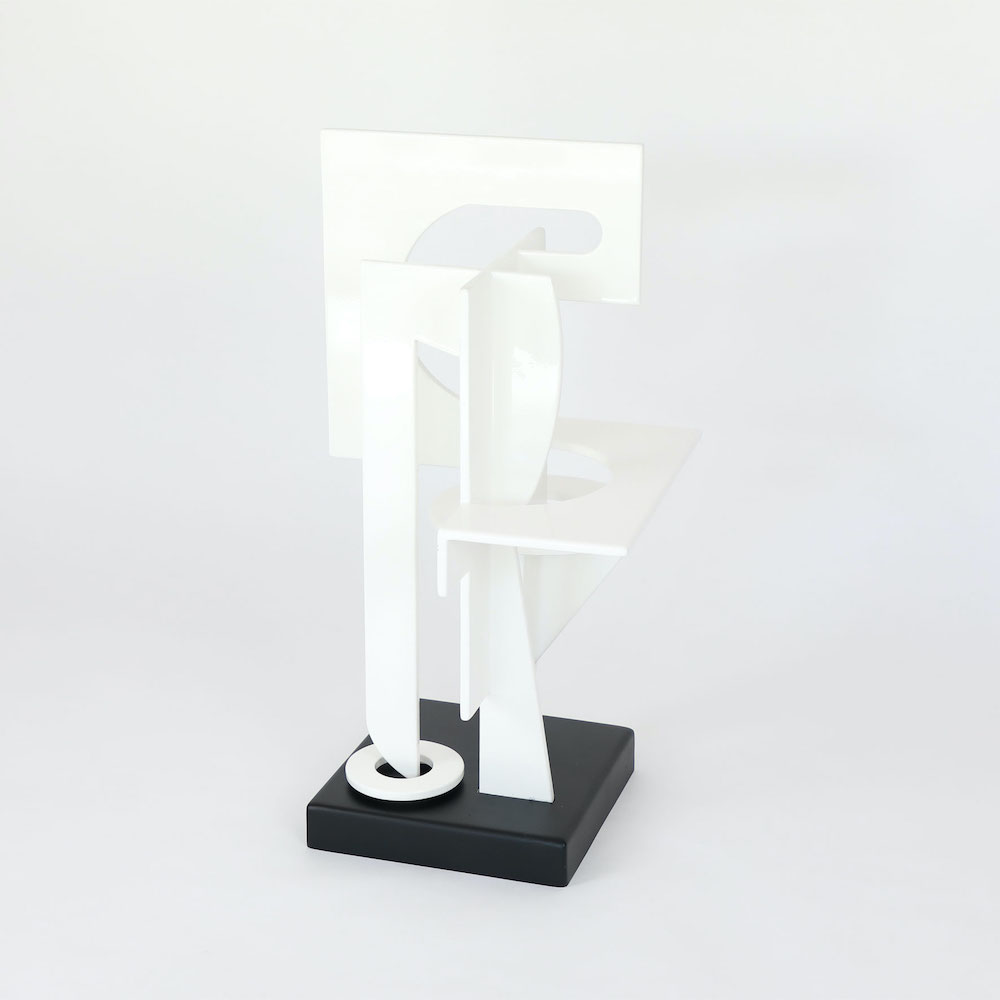 about the artwork :
Ref 270 , 2020
about the artist :
« Je marche sur la tête » (Walking on my head) is the title of a sculpture in coloured resin by Dubreuille which speaks for itself. Having first studied graphic design, Nicolas turned his attention to sculpture in the year 2000 and has since developed his own personal style, both playful and unconventional, but nevertheless part of art history. His lacquer-coated resin sculptures or acrylic drawings on rice paper bring to mind celebrated contemporary artists such as Arp, Brancusi, Calder, Etienne-Martin, Moore, Smith, etc. They are also reminiscent of Bertrand Lavier's Walt Disney Productions or could relate to minimalism, pop art and free figuration. Nico's inventiveness, his way of opening doors between these different paths, between abstraction and figuration, concept and expression, stands for creative and outstanding art. Matrix, geometric, biomorphic and totemic forms all encased within each other, the sculptures are reminiscent of individuals, animals, habitats and architectures.
The sculptural elements consist of modules or solid and curved forms with smooth surfaces. They are brought to light with monochrome and vivid, luminous colours: yellows, reds, blues, greens... These artificial, industrial colours, similar to those of sugared sweets, appear as synthetic as the resin Nicolas uses to build the structures and as the objects mass-produced by our consumer society which are similar to these unique sculptures. Nearly always pierced with holes (we walk on our head but we look, see, and can be seen), elevations or rounded forms, the sculptures are reminiscent of untold stories (most of the time they don't have a title). With Nicolas' sculptures, you have to go beyond the evenness of his three-dimensional art, look through the other side and try to walk on your head.
INV Nbr. dubn_3346
unique artwork
Paris VIII
Price : 6,185.85 $
Shipping
Shipping under 7 to 10 days.
When you receive your artwork, you will be able to return it and get your money back within 14 days after without having to justify yourself, of course if the artwork is not damaged.
Questions ?
Do not hesitate to contact us if you have any question about this artwork, the artist or if you want some suggestions to start or complete your personal collection. Please call us at +33 1 53 30 00 10 or by email yannb@enviedart.com