about the artist :
AJEE
Ajee first worked in fashion and cinema's set design to progressively become an artist by being part of seeveral collective exhibitions around the globe, presenting collages, drawings and paintings.
Attracted by the emerging Art Toy scene, she wanted to practice sculpture as an autodidact and took part in the movement through her first toy character Skullskin in 2008. Axel Teinturier has curated her first solo exhibition, dedicated to it, at the Magda Danysz gallery in Paris.
Her second project Kosplay led to her polar bear sculpture, which she brought to its life-size with a unique 120cm high sculpture for her solo exhibition at Galerie Lacroix in september 2014.
She collaborated with international editors for limited art editions of resin and porcelain of Limoges sculptures or prints.
She studies lines, surfaces, curves and edges with pure and graphical colors. She's part of the
Hard-Edge or Superflat tendencies.
She's experimenting her place within the environment in a figurative work, which tends to a certain deconstruction.
Resin, polyurethane paint, varnish
14 x 18 x 9 in (35 x 45 x 23 cm)
Edition of3/3
Sold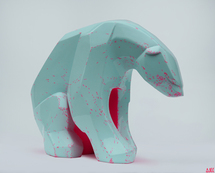 Resin, polyurethane paint, varnish
14 x 18 x 9 in (35 x 45 x 23 cm)
Edition of1/3
5,551.40 $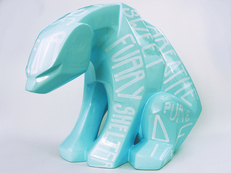 Resin, polyurethane paint, varnish
14 x 18 x 9 in (35 x 45 x 23 cm)
Edition of2/3
5,551.40 $