about the artist :
ALBAN
Alban is inspired by Rauschenberg and his "Combines" and influenced by American Pop Art and the New French Realism. In recent years, Alban explored several themes: "The Cabins" reported to the warplanes, "Steelworkers" from his fascination with industrial machines and "Materials" is an aesthetic research on textures and colors.
"I think my inspiration comes from childhood, I grew up near airports and drilling platforms, particularly in Africa. The industrial material has always fascinated me. Although functional, it sometimes resembles to real works of art. These objects tell stories, if we know how to listen to them. The metal pieces are fossils of the modern world. As a boy, I spent my time transforming my toys. They seemed to me too new, not realistic enough. I added kerosene stains around gasoline arrivals or burning marks on the reactors. Soon, I conceived and made my own models with a concern for truth. The Art schools brought me a rigorous and varied technic. As I worked in parallel as a decorator in broadcasting, it took me a while to clear the principle of my research: the fantasized object. It is a very concrete object  but also an object that has never existed in the collective mind. I appeal to the aerospace imaginary of the forties which rhymes with adventure. A whole mythology is born at that time which is still present in the cinema for example. In fact, I draw my subjects in an unreal past. Our memory is full of fascinating historical slag. Picture the thumb pointing of the Roman emperor ordering the killing of a gladiator, it never happened and yet we firmly believe it did. In the same way, my cabins are an illusion, he who has my pieces becomes a kind of archaeologist of the imagination. I use acrylic on a wooden structure. I treasure the volume of media and mass suggested. Like the material effects, this gives an authenticity to works that seem to jump towards the viewer. This also allows the hanging of unexpected things supposed to weigh hundreds of kilos.
My domain is not True but Probable."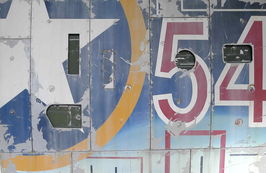 Mixed media on board
35 x 50 in (90 x 140 cm)
unique artwork
5,710.01 $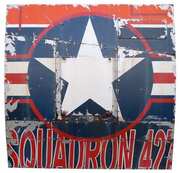 Mixed media on board
39 x 39 in (100 x 100 cm)
unique artwork
4,758.35 $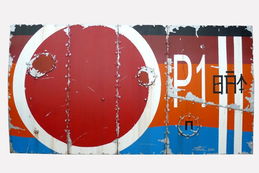 Mixed media on board
32 x 59 in (80 x 150 cm)
unique artwork
5,551.40 $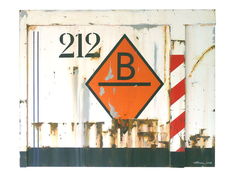 Mixed media on board
47 x 59 in (120 x 150 cm)
unique artwork
6,344.46 $