about the artist :
Fred BRED
A playful and dreamlike pictural work, an extension of the nostalgic universe pulled out of the old publicity iconography. Bred's work is in the continuity of the Pop Art's principle: mostly figurative, inspired by figures of today's mass communication (logos, slogan, visual identities). His spontaneous approach is limitless in colors and shapes, to the point that it is invasive and saturates space.
He thus creates a kaleidoscopic universe, filled with characters and products uprooted from their original supports (ads posters, newpapers, comic books...).
From japonese manga heroes we arrive to Barbies and housewives from the 50's: his world litteraly exploses to create a joyful but deliberatly artificial vision of society.
Fred Bred show us the ridiculous aestheticism of consumption products by taken them away from their usual environment and by multiplying them.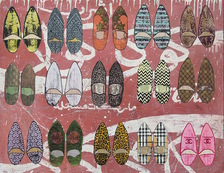 Acrylic, screen print on wood
48 x 37 in (89 x 122 cm )
unique artwork
4,758.35 $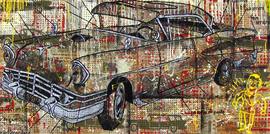 Mixte media on canvas
39 x 78 in (100 x 200)
unique artwork
6,185.85 $
Acrylic, screen print on wood
40 x 32 in (100 x 81 cm)
unique artwork
Sold
Acrylic, screen print on wood
40 x 32 in (100 x 81 cm)
unique artwork
Sold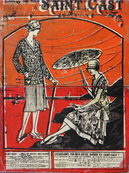 Mixed on canvas
unique artwork
555.14 $
Mixed on canvas
unique artwork
555.14 $